Am I normal? The top five problems raised by teens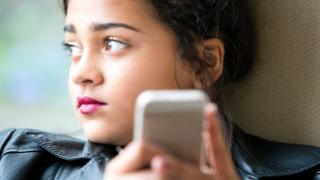 Navigating life as a teenager can be hard, and when you need support, asking for it can be the biggest challenge.
One tool - an app called MeeTwo - offers a way to seek help from behind a screen.
It allows users to post questions anonymously and get answers from their peers and from undergraduate psychology students - expert advice, but from people not long out of school themselves. The responses are moderated by more experts behind the scene.
So what are the biggest issues teenagers need support with?
Co-founder of the social enterprise, Suzi Godson, says the problems can change depending on the time of year - like exam stress in June or family problems around Christmas.
Here, she talks us through the top five problems raised by 5,000 users in August.
Family - 1,055 questions
"Family is a massive issue and not something that parents are often willing to look at," says Suzi.
"There are a lot of questions about conflict at home - from children finding their mum in bed with someone else, to abuse.
"There are also unstable step-family structures and abuse from siblings.
"Then there is school-related stress from teenagers who are being pressured by their parents too.
"They say they are from a good middle class family but they are miserable and their parents don't care about them."
Friends - 1,003 questions
"Friendships, those peer relationships, are a much bigger influencer on a young person than their parents or teachers," says Suzi.
"They are a support network and lifeline, but they are also the cause of huge amounts of stress.
"Girls are particularly bad, where alliances switch and people end up being left out.
"Being shy also has an effect, and that is magnified 1,000 times over when you are a teenager.
"No-one knows what is normal and a lot of the questions being asked are asked so that they can gauge if they are 'weird'.
"Then the answers tell them they are normal and that deescalates their problem."
Sex and relationships - 947 questions
"I am a sex and relationships columnist and I am always stunned by the level of ignorance with these questions," says Suzi.
"People ask about having their first period or what is masturbation, all these basic questions that some parents are also unwilling to answer and are very personal to go to a teacher with.
"We have questions about how to put a tampon in, for example.
"There are also more complex questions about sexuality and gender as there has been a raising of awareness around this.
"But again, it is asking for that support to find out if you are normal - questions around feeling like you are the only one who has never been kissed, or not understanding the age of consent, or people putting pressure on you to do things you don't want to do."
School - 709 questions
"Obviously, this can encompass friends at school and family pressure, but we see a lot of questions about exam stress," says Suzi.
"And it is not just in the usual periods of GCSEs - there is continuous testing in schools.
"For those who are academic, this is not a problem.
"But for those who struggle, each test is another chance for that child to fail.
"And it isn't balanced out by things like art or sport, where individuals may succeed."
Anxiety - 639 questions
"Anxiety and panic attacks are often asked about," says Suzi.
"Our app is given out by Child and Adolescent Mental Health Services (CAMHS) so we do have more kids that are affected with those diagnosable conditions.
"But even with that skew, the questions still show anxiety around family, friends and school is there.
"And a lot of them just tell us they are generally anxious."
Other places you can find help:
Childline - a phone line offering a private and confidential service for children and young people up to the age of 19 - call 0800 1111
Samaritans - private and confidential support for people feeling distress - call 116 123 or email jo@samaritans.org
The Mix - free information and support for young people aged 13 to 25 - call 0808 808 4994 between 11:00 and 23:00, or text 'THEMIX' to 85258 for crisis support