Number of newborn babies taken into care doubles - report
By Sanchia Berg
BBC News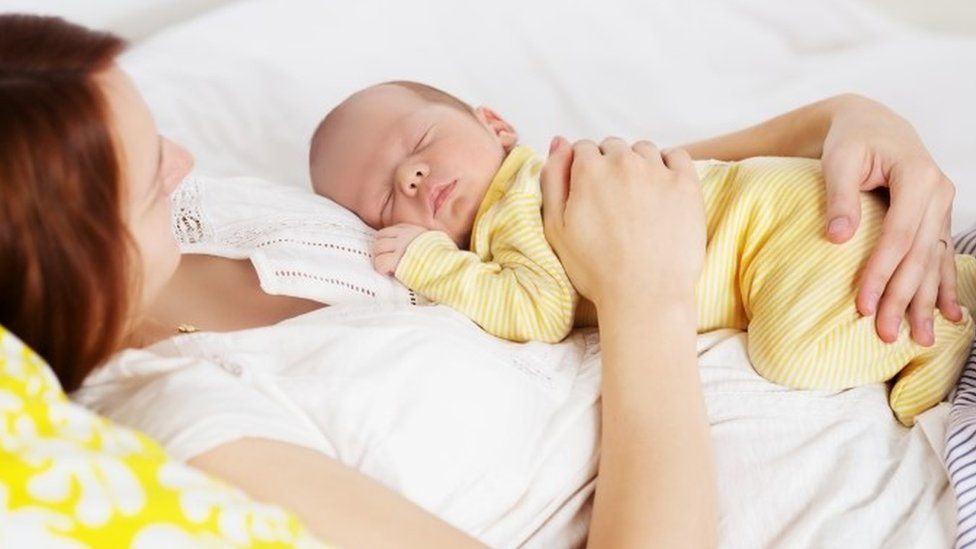 A new study suggests the number of newborn babies in England taken into care at birth has continued to rise.
Data shows that over eight years the number of newborns subject to care proceedings has more than doubled, from 1,039 in 2007-8 to 2,447 in 2016-17.
A newborn is less than seven days old.
Newborns are typically taken into care when a child is assessed as suffering or at risk of suffering significant harm in the family home and the child's safety "demands immediate separation".
The study showed significant variation between different regions, with rates for Yorkshire and the Humber more than double those for London over the eight-year period.
Almost all the cases identified by local authorities resulted in a care order being issued by a judge and the baby ultimately being removed - most for adoption, others to foster care or extended family.
Only 14% stayed with their birth parents.
The report was funded by the new Nuffield Family Justice Observatory and written by a team of academics, using data provided by CAFCASS, the children and family court advisory and support service.
The study found the likelihood (incidence) of newborns in the general population becoming subject to care proceedings has more than doubled, increasing from 15 newborns per 10,000 live births in the general population in 2008 to 35 per 10,000 in 2016.
In the most recent year of data (2016-17), of all infants - children less than one-year-old - subject to care proceedings, 42% of cases concerned newborns.
According to Prof Broadhurst, these newborns would have been taken from their mothers while in hospital.
Around half of the mothers - 47% - had already had older children taken into care.
Some judges have described removing a newborn baby from its mother as the most "severe" intervention a family court can make.
Researchers have questioned whether, in first-time cases, there had been sufficient time to establish a claim of likely significant harm to the child.
"For infants whose family is new to the court, pregnancy provides only a short window for the assessment of parenting capacity and support for change," the report concludes.
It calls for more statutory guidance into both pre-birth assessment and best practice regarding care proceedings at birth.
"Government statistics only register the under-ones, not those subject to care orders in the first week of their life," Prof Broadhurst told the BBC.
"This is when the babies are most vulnerable - when the mothers are most vulnerable".
Sir James Munby, who has just retired as the president of the Family Division of the High Court, welcomed the research but said more work needed to be done.
He said the regional variations identified in the data was important, as there appeared to be "significant differences" between the way courts and local authorities behaved, despite similar demographics or levels of deprivation.
The findings echo those of Prof Andrew Bilson, who found a child's chances of being placed for adoption varied sharply by local authority.