Single mothers 'hit hard by homelessness'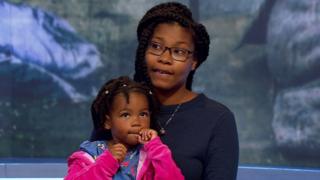 Single mothers and their children are being disproportionately affected by rising homelessness in England, the charity Shelter has told the BBC.
Its analysis of government figures suggests one in every 55 single-parent families became homeless in 2017-18.
In 92% of these 26,610 cases, the homeless parent was a single mother.
The government said: "No family should be left without a roof over their head and councils must provide homeless single parents... with accommodation."
There has been a 169% increase in the number of homeless people in England since 2010, according to the homeless charity Crisis.
The definition of homelessness under law includes rough sleepers, single people in hostels and those in temporary accommodation.
Rejection letters
Shelter found single parents and their children were eight times more likely to become homeless than couples with children, with the "vast majority" being single mothers.
Chief executive Polly Neate said it was "simply not right to allow families to suffer in this way".
"Balancing work and childcare can be difficult for any parent - add to that wildly unaffordable private rents and the chronic shortage of social homes and it's no surprise so many are struggling to keep a roof over their children's heads."
One woman, Karen Nel, told the programme being homeless had led her to take an overdose, because she "couldn't cope anymore".
She said she had been sent "hundreds and hundreds" of rejection letters from private landlords because she was on housing benefit.
"I just want a home. It drains you," she said.
"When the council offered me a flat, I wouldn't have put my dogs in it. It had rising damp. The floor was concrete."
"We're in a two-bedroom flat now but it's temporary accommodation.
"They can phone any time they want and move me the next day. You daren't make any plans for the future."
'I froze'
Tayla Turton, a 21-year-old student teacher with a two-year-old daughter, told the Victoria Derbyshire programme in one instance she had been asked to leave her temporary accommodation with a day's notice.
Her current accommodation sees her housed in one of nine rooms, sharing two kitchens and two bathrooms.
"It brings on my anxiety because these people [I'm living with] are complete strangers. It's terrifying," she said.
"I came down one day and there's three men in the kitchen. I froze."
Families suffer
Miss Turton said she wanted to raise her daughter in a secure place but she and her child were being treated as "just a number".
"I know society will be looking down on us - saying, 'Go get a job. Get somewhere to live,' but there's nothing else I can do.
"If I could rent privately, I would."
Shelter said its findings meant that out of all of the families accepted as homeless in England, 66% were single female parents with dependent children.
Polly Neate told the Victoria Derbyshire programme the charity was urging the government to "get many more social homes built and until then ensure housing benefit is enough to cover the cost of private rents".
The Ministry of Housing, Communities and Local Government said in a statement: "We are working to ensure people are not left without anywhere to go and we are spending over £1.2bn to prevent homelessness and rough sleeping, as well as implementing the most ambitious legislative reform in decades, the Homelessness Reduction Act."
Watch the BBC's Victoria Derbyshire programme on weekdays between 09:00 and 11:00 BST on BBC Two and the BBC News channel in the UK and on iPlayer afterwards.