#icrybecause: Towie's male stars open up emotionally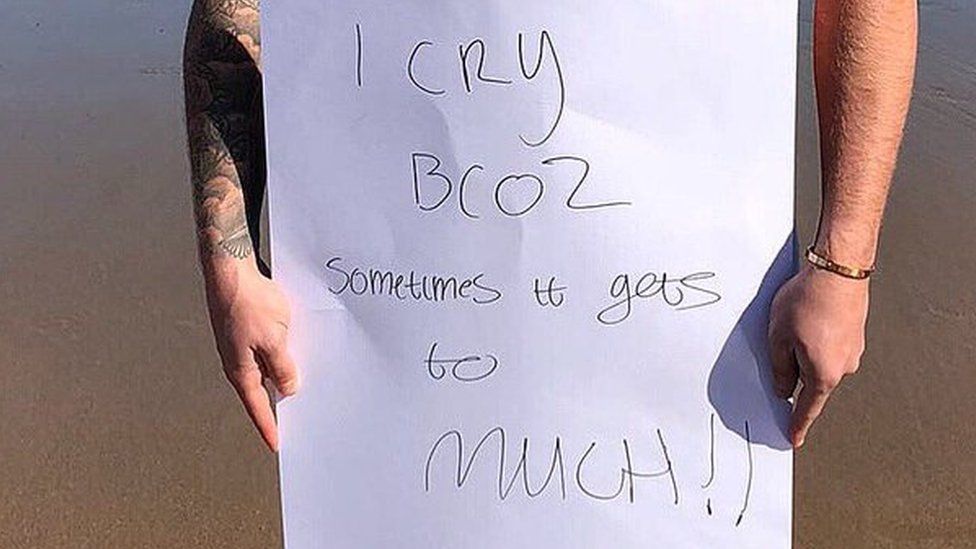 The Only Way Is Essex star Tommy Mallet wants to encourage other men to open up about their feelings.
Mallet, who has spoken about his mental health struggles during the current ITVBe series, has started a campaign #icrybecause on social media.
He said he had experienced "a tough few months" but wanted to use that to help people, adding "just letting you all know it's OK not to be OK".
His co-stars have also got involved, revealing what makes them cry.
And it being Towie, they decided to support Mallet's movement by holding up signs stating what makes them feel emotional... and taking their clothes off - #boysbareall.
During an episode of Towie last month Mallet, 26, talked about a period in his life when he was struggling to cope.
He said: "I just sat there and looked at a wall. I couldn't leave the house. I know it was only a few days it happened to me but still. It was scary."
His comments prompted many people to get in touch with him on social media - and he has now called on other men to "speak up".
His fellow Towie star Liam Gatsby responded by posting about missing his father, who died 20 years ago, with a picture of his dad's number calling his mobile.
He wrote: "Sometimes I wish this call would come through - you don't know how lucky you are so appreciate your parents because you don't know how long they'll be around for."
He later added: "This movement is really close to my heart as #icrybecause I miss my family and really miss my dad."
Another member of the Towie cast, Pete Wicks, said he cries because he feels like "no-one understands and I struggle to express myself properly".
And Mallet's post saw many people reply, praising him for his honesty and opening up about their own experiences.
This is such an amazing thing. My little boy is 3, just started Nursery and he sometimes will cry there, somebody there is telling him big boys don't cry. I tell him WRONG, boys DO cry!!! Keep this up. Boys/Men DO cry!!!!! 🙌🏻🙌🏻

— Louise Gallier (@louise_gallier) October 7, 2018
One Instagram user replied: "I'm glad something is being done for men. My brother took his own life nearly eight years ago because he couldn't talk about his feelings.
"People don't think about men and to show you cry is a great thing - your feelings matter."
The campaign coincides with World Mental Health Day on 10 October.
If you are struggling to cope, you can call Samaritans free on 116 123 (UK and Ireland) or visit the BBC Action Line website.