Ray Galton: Steptoe and Son writer dies aged 88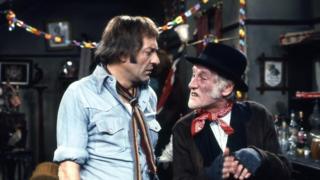 Ray Galton OBE, one of the "fathers and creators of British sitcom", has died aged 88.
In their 1950s-70s heyday he and co-writer Alan Simpson created classics such as Hancock's Half Hour and Steptoe and Son.
In 2016, he and Simpson were awarded Bafta's highest honour, the Fellowship.
The scriptwriter died on Friday night after a "long and heartbreaking battle with dementia", his family said in a statement.
"Ray passed away peacefully, surrounded by his family."
His manager Tessa Le Bars said: "I have had the great honour of working with Ray for over 50 years and for the last 40 as his manager and friend.
"With his lifelong co-writer, the late Alan Simpson, they were regarded as the fathers and creators of British sitcom."
The Galton and Simpson writing duo also wrote TV, film and stage scripts for comedy legends Frankie Howerd, Peter Sellers, Leonard Rossiter and Arthur Lowe.
Galton first met the man with whom he would form a creative partnership spanning decades at Milford Sanatorium in Surrey - when both were diagnosed with tuberculosis as teenagers.
Alan Simpson, appointed an OBE with Galton in 2000, died last year.
Le Bars said it was "the end of an iconic era, but the legacy of Hancock's Half Hour, Steptoe and Son and over 600 scripts is huge".
"They will endure, inspire and bring laughter to the nation for evermore," she added.
---
Decades of laughter
Galton and Simpson met in 1947 while recovering from tuberculosis in a sanatorium.
Their first break came in 1951 with the radio comedy Happy Go Lucky.
They wrote Hancock's Half Hour, a radio and later TV comedy starring Tony Hancock that ran between 1954 and 1961.
Steptoe and Son originally began as a 30-minute one-off play for the BBC's Comedy Playhouse series in the early 1960s.
Regularly voted one of the nation's favourite comedies, Steptoe ran for scores of episodes and spawned several movies.
Awarded OBEs in 2000, Galton and Simpson were also honoured for a Lifetime Achievement by BAFTA in 2016. A blue plaque is on display at the former sanatorium, now Milford Hospital, where they met.
---
Galton and Simpson were perhaps best known for Steptoe and Son, a BBC sitcom about father-and-son pair of rag-and-bone merchants on the make in west London.
For more than 57 episodes, between 1962 and 1974, the grasping Albert Steptoe and long-suffering Harold inhabited the fictional street of Oil Drum Lane in Shepherd's Bush.
At its peak the show was watched by 28 million people. It was adapted for US television as Sanford and Son and ran on NBC for several years.
Born in Paddington - not far from Steptoe's future stamping ground - Galton continued to work into the 90s.
His final sitcom was Get Well Soon, a comedy featuring Hugh Bonneville set soon after the establishment of the NHS following World War Two.
Inspired by Galton and Simpson's own auspicious first meeting, it ran for six episodes in 1997.