Fam and nothingburger added to Oxford English Dictionary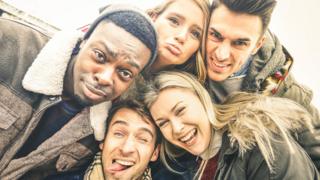 Fam and nothingburger are among almost 350 new words added to the latest Oxford English Dictionary.
First appearing as an abbreviation for family in the 16th century, fam is now commonly used as slang for close friends as well as relatives.
Nothingburger is a way of describing someone or something seen to have little importance.
Alt-right, Tarantinoesque and idiocracy are other notable new entries.
Fam started being used commonly as slang in about 1990, often in American hip-hop, according the OED.
It soon went beyond meaning just relatives and was taken to mean close friends or members of a particular group. It can refer to an individual or multiple people.
The OED says the word is now most prominently used in the UK - especially in London - and on social media.
Fam features in grime lyrics by London artists like Skepta, Stormzy and Lethal Bizzle.
Nothingburger, a person or thing of no importance, value or substance, applies especially when it's contrary to expectations.
It was first used by a Hollywood gossip columnist in 1953.
Idiocracy means a society consisting of or governed by people characterised as idiots, or a government formed of people considered stupid, ignorant or idiotic.
Another new addition, alt-right, short for "alternative right", came to prominence in recent years especially in the US.
The OED classifies it as "an ideological grouping associated with extreme conservative or reactionary viewpoints, characterised by a rejection of mainstream politics".
Film language
The OED has also updated the way films are described according to particular styles of acting and film-making.
Tarantinoesque refers to the works of Quentin Tarantino and was first used in 1994 after the release of his hit film Pulp Fiction.
It refers to the director's use of graphic and stylised violence, non-linear storylines and sharp dialogue.
The adjectives Bergmanesque, after the Swedish director Ingmar Bergman; Spielbergian - for Steven Spielberg - and Keatonesque, in reference to Buster Keaton, not Birdman actor Michael Keaton, were also added.
The OED is updated four times a year, with the next update is due in December.