Parkrun: What's all the fuss about?
By John Harrison
BBC News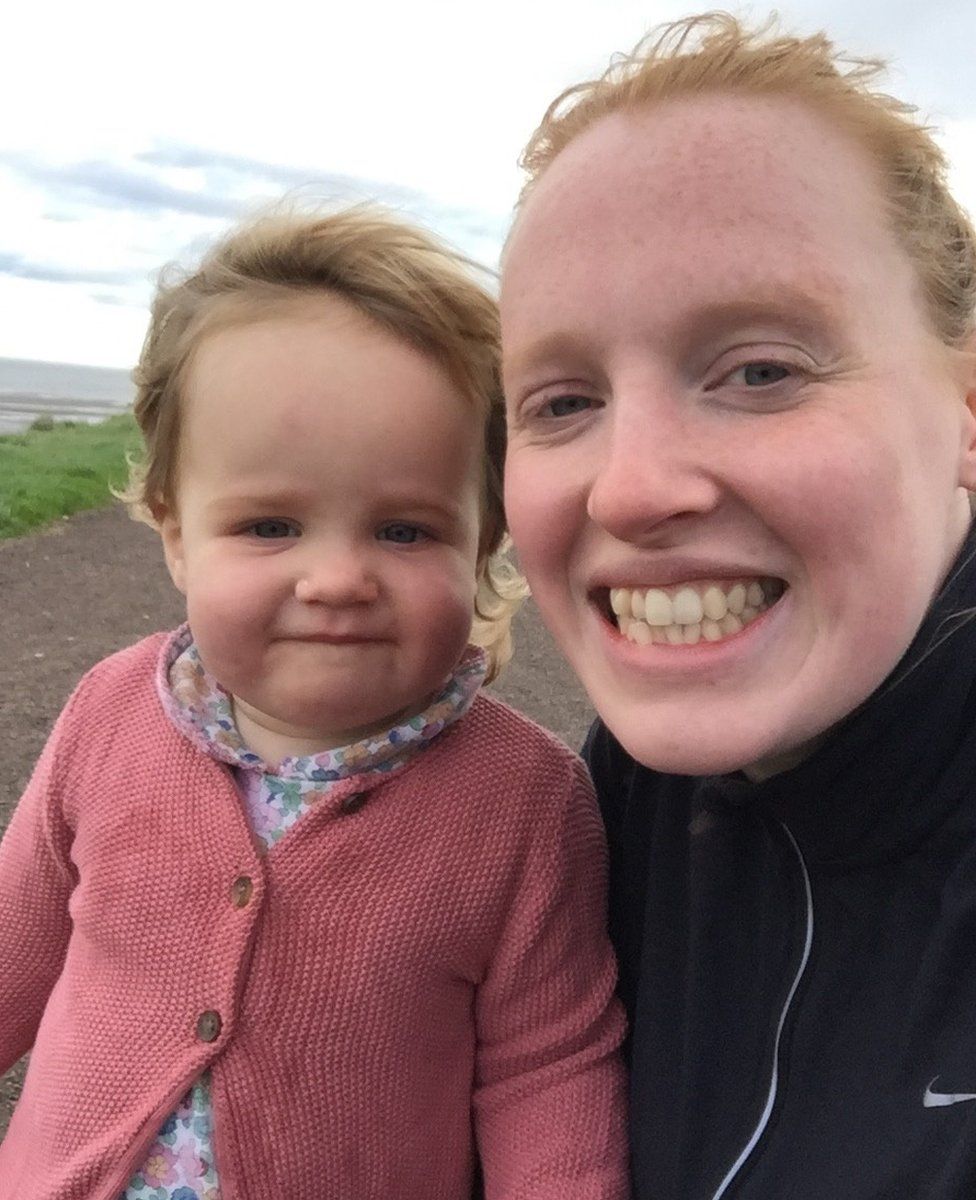 Fourteen years ago, a group of mates met up on a Saturday morning to jog round their local park. Since then, five million people have signed up to the Parkrun website. Why is it so popular? And why do many people say running is not the main reason they do it?
Gwen Twynam-Perkins became a mum before most of her friends.
She was 24 years old, and her husband, Jonathan, often worked at weekends, leaving her at home with her baby, Rosie, on a Saturday.
"You've got a baby," she says. "They can't talk to you in the same way as an adult and it can be very very lonely.
"You don't want to disturb your friends at the weekend because that is their family time."
Finding a way of exercising was also hard.
"You can't sign up for a gym class unless you are really good at planning, and you always have to rely on someone else to look after your child."
One Saturday, Gwen bundled Rosie up in a buggy and took her to her local Parkrun in Edinburgh.
On some mornings Gwen, now 27, managed to finish the 5km run in under 30 minutes. Other times it took her almost an hour to push Rosie round .
Once she did it on just three hours sleep after a particularly bad night.
"There were always people there to talk to," she said. "For me, it was about getting back some of the independence that I'd lost."
She now has two children, and eight-month-old Sam has joined his big sister Rosie, now aged two, as a Parkrun regular.
"Sometimes it can be very cold, but they do love it," she adds. "For us it is just the best way to start the weekend."
"One of the first building blocks of my life back in Leeds was Parkrun," Jonathan Turner says.
Jonathan, 50, moved back to Yorkshire from Teesside in May 2014, after 24 years away.
He returned to look after his mother, giving up his job and moving away from his friends.
"I felt a real need in those first few months of wanting to connect with somebody."
Jonathan had few friends remaining in the area, and spent most of his time caring for his mum.
He was looking for a reason to get some exercise when he Googled "things to do in Temple Newsam".
He found a local Parkrun and gave it a go.
Jonathan came to rely on the release Parkrun gave him after his mother died later that year.
"She died on the Thursday and I went down to the Parkrun on the Saturday even though I was in a daze."
He went for a coffee with a couple of runners afterwards and talked about his mum.
"People there were just really kind," he says.
"For a while after my mum had gone I was really looking for somewhere to feel like home.
"In those first few months Parkrun gave me a sense of belonging."
For Lynne Lewis, joining the Portobello Parkrun in Edinburgh gave her the chance to find some "common ground" with her son, Morgan.
"I've always been a runner but I suppose over the years I had a few injuries and, as with a lot of women, I stopped running after having my children," she said.
However, Morgan joined her at Parkrun when he was 14.
He started as a volunteer as part of his Duke of Edinburgh award, and now regularly takes part as a runner.
"What was really lovely is that neither of us are really sporty people and yet sport has brought us that common interest," she added.
"It has become a fixture in our lives."
Parkrun's founder is very aware the movement he helped start 14 years ago benefits its participants in many different ways.
Running, says Paul Sinton-Hewitt, is the "smallest part of what we do."
"We are in prisons, we help people with visual issues when they are running, we try and address a whole range of social ills, including loneliness.
"We go out of our way to make sure people can join this party to be part of the community and to find the things that have been missing in our society for a very very long time."
An indication of Parkrun's ability to appeal to runners of all ages and abilities can be found in the statistics over time.
The average 5km time is now about seven minutes slower than in 2004.
Paul is delighted by this, saying it is proof that the type of people joining and the range of abilities has diversified.
He admits that running was a form of personal therapy when he started Parkrun 14 years ago.
He says he was in a "dark place" in his life: "I got fired from my job, I lost my girlfriend, I got injured running."
On 2 October 2004, he and 12 friends met for a jog in Bushy Park, Teddington, followed by cake and coffee in a local cafe.
They liked it so much they started doing it every week, and they were soon joined by other runners.
Within a couple of years the Parkrun phenomenon had spread. There are now runs in 20 countries, including Australia, Finland, Canada, Namibia and Malaysia. There is even one in Siberia.
On Monday night, the five millionth person signed up to the Parkrun website and, this weekend, anniversary runs are taking place across the world.