Civil partnerships: 'Why I want one with my sister'
By Francesca Gillett
BBC News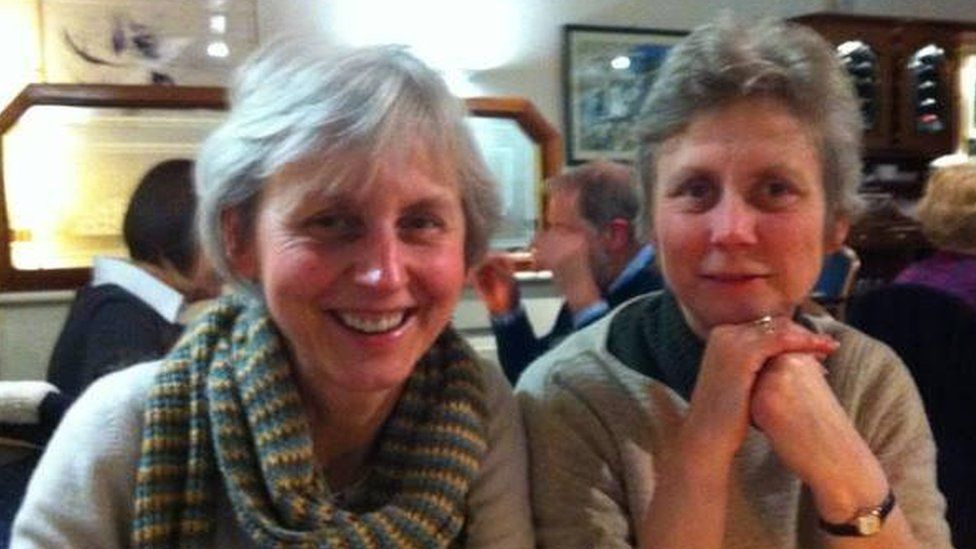 Catherine Utley has lived with her sister Ginda for more than 30 years.
The pair raised Catherine's daughter together and jointly own a house in south London.
And they are among a number of siblings who want to be allowed to enter into a civil partnership.
But civil partnerships for siblings is something which campaigners have long called for.
"There's no real argument against it," says Catherine Utley, 59. "People are getting the wrong end of the stick."
She has lived with elder sister Ginda, 63 - full name Virginia - for most of her adult life since they bought their first flat together in 1985.
"She stood by me when I had my child in 1993," says Catherine.
"I got pregnant and it wasn't planned and it wasn't possible for me to live with the father and so it would have been a complete nightmare.
"My dear sister's immediate reaction was to stand by us. We bought a house together to be close to our two brothers, and it was just a wonderful thing.
"She's been my rock, totally."
Catherine says there is a "special bond" for siblings who live together in adulthood.
"She's like my other half, she's my best friend. I've known her since I was born. Some people don't get on with their siblings but if you do it can be a very strong relationship."
Growing up, Catherine's daughter, Olivia, 24, said it "just completely felt like two parents".
"I don't consider my mum and aunt any more a parent than the other. It was just a very happy, stable home. People thought Livvy had two mums and that was that."
Catherine and Ginda want to be able to enter into a civil partnership so they can enjoy the same inheritance rights as other couples who have formalised their relationship.
"When my sister dies or I die one of us will have to sell the home to pay for the inheritance tax."
Catherine says it is a "glaring injustice" because civil partnerships are open to any two people. They don't need to be involved in a romantic relationship - they just cannot be blood relatives.
"Excluding siblings is pure discrimination. I could have a civil partnership with my next door neighbour, but I can't have a civil partnership with the person I have shared my home and life with."
She adds: "I'm not saying civil partnerships is the only way the inequality can be addressed, but it's the most obvious way. They could do something about inheritance tax by changing the rules."
They bought their house for £175,000 but because property prices have increased, their home is worth much more. Under inheritance tax laws, property over a certain threshold is taxed at a rate of 40% when passed on.
The issue is in the spotlight after the government announced that the option of a civil partnership is to be extended to mixed-sex couples. Previously, they were only available to same-sex couples.
Conservative MP Sir Edward Leigh said: "Why should siblings who've lived together for years have to pay estate duty when one dies?"
Mixed-sex civil partnerships to be legalised. Why not for siblings too?

— Sir Edward Leigh MP (@EdwardLeighMP) October 2, 2018
He has previously backed a bill, put forward by Lord Lexden, which wants to open up civil partnerships to siblings.
Arguing the case for the bill, Lord Lexden said: "The central issue is this: why should all those whom the government presume are in a sexual relationship, whether heterosexual or gay, enjoy legal recognition, and only those who live together in committed, secure, platonic relationships be denied it?"
"This is not all about us," Catherine adds. "There are so many people. We've heard of lovely old ladies in their 80s who had to sell up."
She says living with her sister has given her companionship and friendship, and would like financial security in the future.
"I have never wanted to live with anyone else."