Civil partnerships: 'I want it to happen before my partner dies'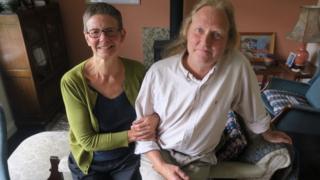 Joanna and Stephen never wanted to marry.
But they have always wanted to make a "public declaration" of their relationship - and this became even more pressing when Stephen was diagnosed with an aggressive form of cancer six years ago.
They went to their local registry office and found, to their great surprise, that they weren't allowed a civil partnership.
So they waited.
And waited.
Now it's been announced that all couples in England and Wales - not just same-sex couples - will be able to choose to have a civil partnership rather than get married.
But for this couple, at least, it's not about finances or security.
"It would just be nice to share some public declaration, particularly with our children," says Stephen Anderson, 57.
"And there is urgency because I'm living with this illness. It would be a jolly nice thing to do."
The couple have been together for 30 years and have three grown-up children.
Joanna Christina, 63, a retired teacher who now runs a vegan street food business, and Stephen, a retired lecturer, are opposed to marriage because they feel it is outdated.
For them the attraction of a civil partnership lies in the fact it "hasn't been socially defined yet - it leaves us to define what we want it to mean".
"It is more egalitarian. It's a partnership… Civil partnerships are the way ahead for those who value liberalism," explains Joanna.
When? When? When?
There is no timescale for any law change - and the couple's disappointment at this is all too clear.
"We want to know when - when, when, when - is this going to happen?" says Joanna.
She is confident that without June's Supreme Court ruling the government "would be doing nothing".
"We need a timetable now."
"I'm fed up and frustrated," adds Stephen.
"I'm not delighted that it's been announced because it's been a great frustration that it hasn't been allowed from the first instance."
'Jolly good party'
The campaign for Equal Civil Partnerships says it now hopes Joanna and Stephen will be one of the first different sex couples to form a civil partnership.
Stephen says he'd like the law change to happen "this afternoon" - but for now the couple, who live in Mytholmroyd, West Yorkshire, simply "celebrate each day" they have together.
And on the day the law changes?
"We'd go and initiate the process immediately and then have a jolly good party!" says Stephen.