Coronation Street stars and Frank Bruno settle hacking claims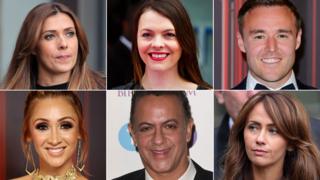 Six Coronation Street stars and ex-boxer Frank Bruno are among the latest celebrities to settle phone-hacking claims with News Group Newspapers.
Sixteen cases were heard at London's High Court, including Kym Marsh - who plays Michelle Connor in the ITV soap - and Jimmi Harkishin, who plays Dev.
Comedians Les Dennis and Bob Mortimer also received payouts.
NGN paid "substantial damages" to 16 claimants and apologised for hacking at the now defunct News of the World.
The firm - formerly called News International - made no admissions in respect of alleged hacking at the Sun.
NGN has settled more than 1,000 claims since the phone-hacking scandal began to emerge in 2005.
Other Coronation Street stars to receive payouts included Kate Ford, known for her role as Tracy Barlow, and Samia Ghadie, who plays Maria Connor.
Alan Halsall, who plays Tyrone Dobbs in the soap, and his ex-wife Lucy-Jo Hudson, who played Katy Harris from 2002-05, also settled their claims.
Former world heavyweight champion Bruno said no-one believed he had been hacked.
"For years I said I was being hacked, but people just said, 'Poor old Frank he's really lost it this time,'" he said.
"No amount of money will never pay for the stress this caused, the sleepless nights, and the countless rows I had with people who I thought had leaked stories to the press.
"The people who did this are the lowest of the low. Gutter press is a good description."
He added: "My mum used to say that we need to forgive those who have wronged us and, despite what I have been through, I will try and put this horrible episode behind me."
The other cases to be settled were:
Ben Freeman, who plays Scott Windsor in ITV's Emmerdale
Carole Caplin, the ex-style adviser to Cherie Blair
Simon Clegg, formerly of the British Olympic Association
Samuel Preston, ex-singer of band The Ordinary Boys
Model Nancy Moir, wife of comedian Jim Moir, who is better known as Vic Reeves
Rupert Lowe, ex-chairman of Southampton Football Club
Chris Herbert, who helped to oversee the careers of the pop bands the Spice Girls, 5ive and Hear'Say
Lawyer Claire Greaney of Charles Russell Speechlys, which represented the Coronation Street stars, added: "Everyone has the right to privacy and confidentiality.
"Violating that right was simply unacceptable. While our clients have a public profile, their private life is just that - private - and should be respected as such."
Each of the stars settled their cases and received damages and an apology in open court for misuse of their private information.
The News of the World was closed in 2011 after its owners, Rupert Murdoch's News International, admitted the scale of hacking that had been going on, dating back many years.