Is Corbyn's leadership the beginning or the end?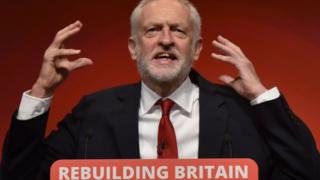 A few days before this Labour conference, one of Jeremy Corbyn's close allies suggested to me this would be the week that would demonstrate if Mr Corbyn has really transformed the Labour Party.
Whether he meant the promises he made to his supporters when vowing to bring in a genuinely "new kind of politics".
Well, Jeremy Corbyn has changed. His son Ben told us today, after his father's speech, that he was "smoother" now, and, excitedly, he claimed: "There was a new centre emerging."
And yes, Labour has changed. Looking out on to the crowds chanting his name, their leader could be sure that hall, that audience, is behind him.
After three years of angst, with some MPs trying to remove him, Mr Corbyn - or his team - have almost total control over his party and its mechanisms.
MPs who were part of his early core of loyalists are understandably emboldened. MPs who despair of the leadership are mainly subdued, resigned to "waiting it out", as one described it.
After the general election last year - and given the profound uncertainty in our politics right now - dissenters are unsure if their warnings that he could never win power were totally, and utterly, wrong.
The bitterness between the two sides is still there, but the urgency has disappeared. As one insider described it, "when you fight all the time, it's just exhausting".
To an extent, those Labour people who battled Corbyn and his enthusiastic supporters are simply too tired of it right now to carry on.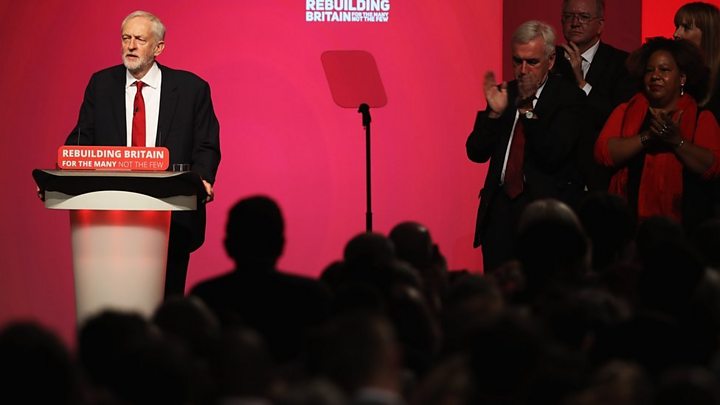 But hold on a minute - not everything has gone according to the script.
The rule changes that would make it easier for activists to change MPs, easier for members to have a say over policy, easier for members to influence the party's direction, did not sweep through without obstacle.
And in setting policy through the National Policy Forum - a formal process - or trying to influence Labour in local government, or changing the selection rules, the changes that were meant to add up to a wholesale transformation of the party have not gone as far as originally intended.
That's partly because when you scratch beneath the surface, there's a profound debate happening in all parts of the Labour Party about what comes next.
Sure, in the immediate future, they are hopeful that a general election could emerge out of some chaotic post-Brexit vote, that could see them ride into power.
But whatever the short term brings, with all its unpredictable scenarios, there is also a conversation about the long term.
Some senior figures genuinely believe that the changes that have been wrought so far are just the beginning. The future for Labour, they argue, is in a mass movement where members have the control.
In the optimistic version of this, Labour could build an entirely new model for British politics, with Jeremy Corbyn as the symbol for that new style, where members of the public who choose to join the party have their say.
The darker scenario that could emerge, some MPs fear, is that rather than spending their time challenging their opponents in Westminster, scrutinising policy and representing all their constituents, they are consumed by a semi-permanent campaign to keep local activists happy - in order to keep their jobs.
It's easier to argue for greater accountability and greater democracy, but those cautious about the idea argue it's just plain naïve to imagine that those changes would not have a profound and negative impact on the job MPs do in Parliament.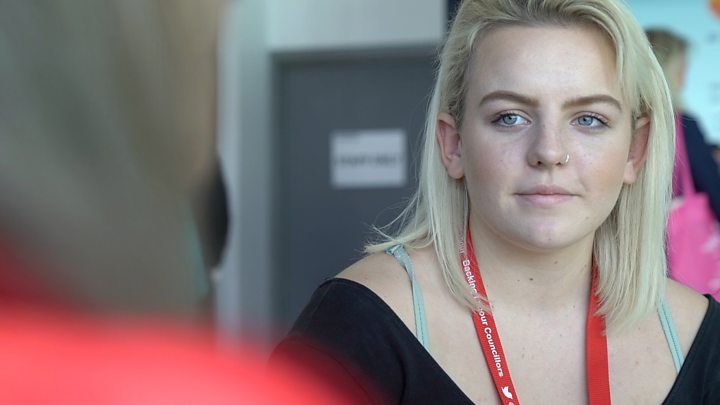 And there are frustrations on both sides. Plenty of people, whether in the Parliamentary party or in the unions, or in Momentum, or local party level, are finding individual frustrations.
It's worth noting that the unions have been a big part of the block on some of the more sweeping changes that Jeremy Corbyn's supporters wanted.
Yes, he has had crucial backing from those big voices in order to keep his job in the last few years - particularly vital still is the voice of Len McCluskey - but the unions have, no doubt, applied the brakes on some of the things that could have happened. Precisely in the same way they tried to do in previous times.
As one shadow cabinet minister said: "The right of the party never managed to completely subdue the unions, the left won't do it either."
They still pay the bills. The bitter fights about changes to this rule or that rule - and union resistance to them - are not about what happens to Jeremy Corbyn, but about what comes next.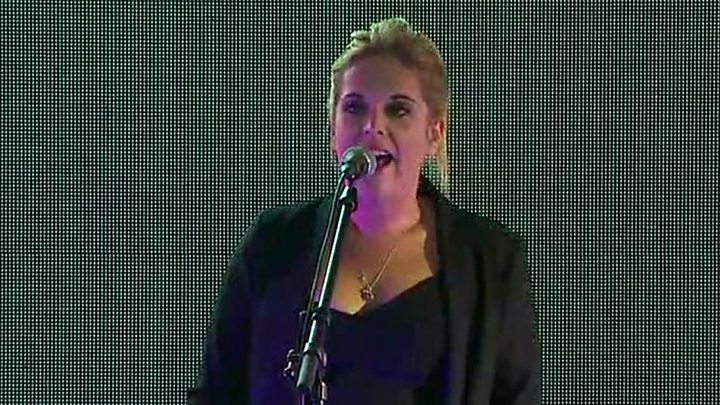 One senior figure told me: "I'd rather gamble on the future leadership of the unions than on a huge bunch of activists."
Labour has changed, and changed dramatically, but some things stay the same. There is "a shudder in the air" - not about Mr Corbyn's leadership, Labour has made an uneasy peace with that - but about what remains when his days as leader are over.
In volatile political times, of course, events, rather than Labour's own dilemmas, are likely to shape what happens.
But beyond Liverpool this week, beyond the fringe, beyond the hall, there is a question being asked in Labour circles: is Jeremy Corbyn's leadership the start, or the end?