Nazanin Zaghari-Ratcliffe: PM calls for her release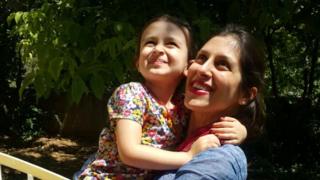 The prime minister has called for the release of jailed charity-worker Nazanin Zaghari-Ratcliffe, Downing Street says.
Theresa May met the Iranian president for talks at the United Nations in New York, on Tuesday.
Mrs May told Hassan Rouhani she had "serious concerns" about Mrs Zaghari-Ratcliffe's imprisonment.
The British-Iranian was jailed for five years in 2016 after being convicted of spying, which she denies.
Foreign Secretary Jeremy Hunt also had his first face-to-face meeting with Iran's foreign minister, Javad Zarif.
"I again pressed for Nazanin's swift release - she deserves to be back at home with her family," Mr Hunt said in a statement.
He said it was "not acceptable to detain innocent people arbitrarily at the cost of enormous human anguish".
Ms Zaghari-Ratcliffe was was arrested at Tehran airport in April 2016 after visiting her family on holiday. She has always maintained the visit was to introduce her daughter Gabriella to her relatives.
The mother-of-one from Hampstead, north London, was recently reunited with her four-year-old daughter during a three-day temporary release.
But since returning to prison, after her application for an extended release was denied, she has suffered several panic attacks.
Speaking to Radio 4 on Wednesday, Mrs Zaghari-Ratcliffe's husband, Richard, said giving up was not an option.
"She's calmer than she was before," he told the Today programme.
He described "the shock of being let out but then being brought back in, which was really tough for a week or so".
But he added: "Things have really calmed, and (we are) just hoping beyond hope that the government can unlock something."
Labour MP Tulip Siddiq welcomed the prime minister's intervention, saying her constituent had "been through hell and back".