Is homework pointless? Comedian says kids' workload is 'madness'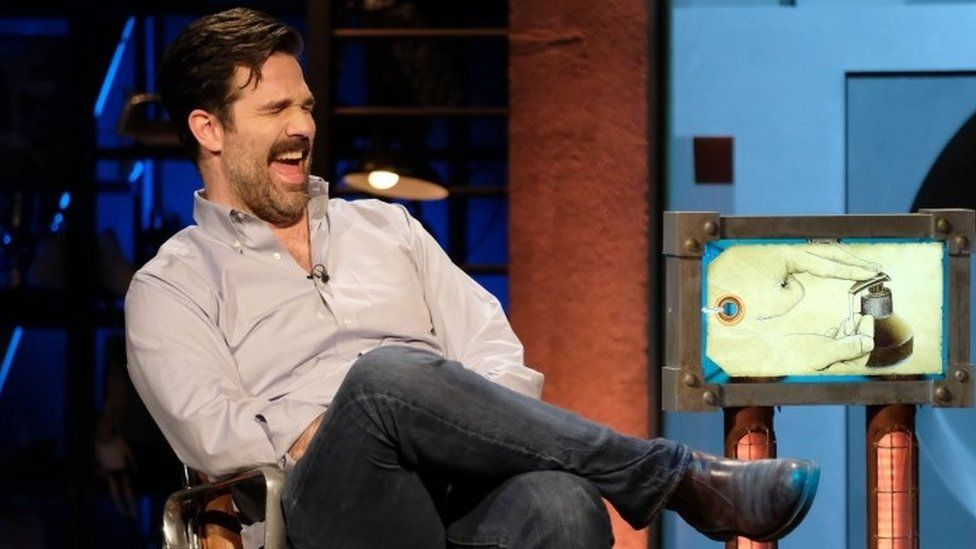 Are children getting too much homework in the UK? Comedian and actor Rob Delaney thinks so.
"Why do they give seven-year-olds so much homework in the UK and how do I stop this?" he wrote on Twitter.
His comments sparked a social media debate and other celebrities were soon weighing in with their thoughts.
Many agreed with the star of the Channel 4 sitcom Catastrophe, who lives in London with his wife and two sons.
He said: "I want my kid frolicking and drawing and playing football. Who knows more about stopping this madness and can help me?"
Love our kids' school & teachers (including heads) just sense they're being told to "teach to the test" just like in America, where people are obviously stupid.

— rob delaney (@robdelaney) September 25, 2018
The American also suggested parents who called for more homework weren't fond of their offspring.
This is one of many replies from teachers saying there are primary parents requesting *more* homework for their kids. Why not save time & just tell your kid you don't like them? https://t.co/7kOC5hMlvr

— rob delaney (@robdelaney) September 25, 2018
He said it brought stress to the home, child, parents and their relationship.
Seems an awful lot of parents agree on the pointlessness and stressful nature of homework. Kids should be allowed to play and enjoy home-life with their parents without the divisiveness of work they have plenty of time to do at school. There's plenty of time to be an adult.

— Gary Lineker (@GaryLineker) September 25, 2018
Delaney also received support from fellow comedians, and fathers, Romesh Ranganathan and Jason Manford.
The idea that homework at that age is the best use of their time is so insane. It causes stress, ruins evenings and for no real furthering of learning. Can you tell I'm against?

— Romesh Ranganathan (@RomeshRanga) September 25, 2018
Absolutely bang on @robdelaney! There's no need for primary school kids to have homework other than reading a book they want to read! In a time where mental health is critical, it's important for kids and adults to realise that their free time is theirs to do with what they like. https://t.co/a9E6Qgi3QM

— Jason Manford (@JasonManford) September 25, 2018
Manford pointed out that it was often the parents who ended up doing it, saying he spent three hours on a Sunday cutting things out of magazines and researching animal teeth.
And it wasn't just celebrities who joined in the debate.
One Twitter user, Alison Waller, said she refused to spend weekends doing homework with her eight-year-old.
She added: "Playing in the park yes, baking yes, chatting yes etc. Learning comes in many forms."
Another, Chris Walsh, said his child's primary school had put an end to homework after parents intervened.
At my son's primary state school in Woolwich, the parents got together and approached the Head about it. He stopped all homework.

— Chris Walsh (@WalshWrites) September 25, 2018
However, there were some dissenting voices - led by Good Morning Britain presenter Piers Morgan, who said lazy parents would agree with Lineker.
A lot of LAZY parents will agree with you, Jugs.
As a nation, we're falling so far behind educational standards of countries like China, it's embarrassing.
Telling our kids to now give up on homework seems a perverse response to this.... https://t.co/6rH03WeVPU

— Piers Morgan (@piersmorgan) September 25, 2018
He added: "Most parents understand that homework, if well organised, plays an important part in their children's education."
In response, Julian Thomas, head of independent school Wellington College, said the real discussion should be about the quality of homework.
He tweeted: "The reason homework causes such stress is because too much of it is mind-numbing and of little educational value."
So where does the government stand?
In 1998 the government introduced guidelines in England and Wales recommending an hour a week for five to seven-year-olds, rising to half an hour a night for seven to 11-year-olds.
A year after the guidelines came in, this had risen to around nine in 10 primary schools and the majority still set homework now.
Labour's advice was scrapped in England in 2012 and schools now have more flexibility to design systems to suit their own students.
Schools also have the power to decide in Scotland, Wales and Northern Ireland.
So if Delaney is serious about wanting to reduce his child's workload, his school's head teacher should expect a knock on the door.