Grenfell Tower: 'Asbestos particles in smoke' could be risk for survivors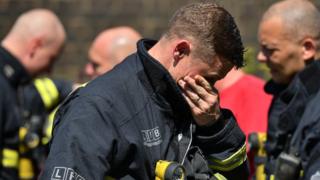 Concerns have been raised for Grenfell Tower emergency workers and survivors, especially children, who may have been exposed to toxic fumes and asbestos.
Dr Fiona Wilcox called on the NHS to set up a screening programme for those who were exposed to smoke and dust during and after the fire.
In her letter she said the impact of the disaster, which killed 72 people, could be "wide-ranging".
She added that residents who lived near the site were unlikely to be at risk.
In the letter to NHS chief executive Simon Stevens, the coroner wrote that "real concern" had been expressed for the health of survivors, especially children.
But she said she'd been told no physical health screening programme had been put in place for survivors.
NHS England said its staff had provided "extraordinary care" to residents on the night of the fire and in the months afterwards, including mental health care.
It promised to respond to the letter within 56 days.
Dr Wilcox said firefighters involved in the events of 9/11 in New York had since suffered health problem related to fumes and dust that they inhaled.
Grenfell Tower was known to contain asbestos and the smoke from the fire will have contained multiple toxic substances", she said.
In 2014 three firefighters who helped in the aftermath of the 9/11 terror attack died from cancer on the same day. But doctors said it was unclear whether the sicknesses could be linked to their presence at the scene.
---
What are the affects of dust and smoke inhalation?
Breathing in dust or fumes is associated with a number of long-term health conditions.
The most common conditions are asbestos-related diseases and chronic obstructive pulmonary disease (COPD).
Asbestos-related diseases include asbestosis, a scarring or thickening of the lung tissues, lung cancer, and mesothelioma, a type of cancer that targets the tissues that cover the lining of internal organs, in particular the lungs and chest wall, and which is difficult to treat.
COPD is an umbrella term for a group of lung conditions that cause breathing difficulties, such as emphysema and chronic bronchitis. Symptoms, which include a persistent chesty cough and frequent chest infections, tend to get worse over time.
Dust inhalation can also trigger or exacerbate conditions such as asthma.
---
Public Health England has studied the air quality around Grenfell Tower since the fire concluded that air pollution remains low, with no asbestos detected.
Its report said that although "small amounts of asbestos fibres will have been dispersed within the smoke plume" they presented a small risk to health.
"Asbestos related diseases are typically associated with a long term workplace exposure to high levels of airborne asbestos fibres," the report added.
Campaign group Grenfell United welcomed Dr Wilcox's letter and said the potential long-term impacts of the fire should be taken seriously.
"The NHS are just about to start some screenings, we need to make sure this is the start of the long-term health care for survivors now and for years to come," it said.