Westminster inquest: Khalid Masood 'sent kissing emoji' before attack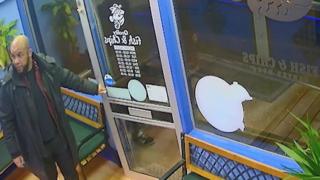 The widow of Westminster attacker Khalid Masood has said he was "evil" as she described his violent outbursts while on steroids to an inquest.
Rohey Hydara apologised to his victims' families for not being "more vigilant", saying: "I had no reason to doubt him".
She said Masood could be "very short tempered" but denied playing down her knowledge of his extremism.
Masood, 52, stabbed PC Keith Palmer to death outside Parliament, after running down four pedestrians in his car.
The inquest into the deaths of PC Palmer, 48, Kurt Cochran, 54, Leslie Rhodes, 75, Aysha Frade, 44, and Andreea Cristea, 31, is taking place at the Old Bailey in London.
An inquest into the death of Masood - who was shot dead by armed officers during the attack on 22 March 2017 - will take place afterwards.
Ms Hydara, who married Masood in 2006 and is the mother of his two children, told the inquest: "I can't believe I was married to someone that evil."
"He would get very bad when he was on steroids," she said. "If you would look at him in a certain way he would talk about it for an hour. He was angry. I would always back down."
Emoji sent
A recording made by Ms Hydara while Masood was using steroids was played in court in which he said the Islamic State group was "not the enemy".
She said she contacted police when she realised Masood had been involved in the Westminster attack and rejected a claim from Gareth Patterson QC, the barrister for the victims' families, that she had been aware he had been "going down a particularly dangerous path".
The night before the attack, the couple spoke online and she said Masood appeared "emotional", Ms Hydra said.
The next day, Masood sent his wife and children two texts, including one featuring an emoji blowing a kiss, the inquest heard.
Ms Hydara said she had been sent a document by text shortly before the attack titled "Jihad" in which he had said "please forgive me".
Along with Masood's mother, Janet Ajao, Ms Hydra was refused anonymity by a coroner at the inquest, but was allowed to give evidence out of sight of the public and media.
Earlier, Ms Ajao told the inquest she only found out about hers son's actions on the TV news - but then it all "made sense".
She when she last saw him - days before the attack - he just looked at her and said "they'll say I'm a terrorist but I'm not".
She said that at the time she "had no idea what he was referring to".
"I know it sounds ridiculous but it didn't enter my head," she said. "I'm utterly ashamed. I'm ashamed he's done this."
Mrs Ajao said her son had "always been a fiery, angry personality" who once turned into the "Incredible Hulk" in a row over a chicken dinner.
She added he would go "on and on and on" about Islam after he converted while in prison for a wounding offence but had never expressed extremist views to her or hostility towards other people.
'Golden opportunity missed'
The inquest heard Masood had seen his mother at her Welsh farmhouse only days before the attack - travelling there in the rented Hyundai Tucson car which he would later use to kill four people on Westminster Bridge.
The barrister for some of the victims' families told Mrs Ajao that a "golden opportunity" was missed to prevent the attack by her failure to "follow up" on his comments to her.
Mrs Ajao said: "With hindsight, yes, I can see it would have made a difference... but at the time it didn't occur to me that this was going to happen."
She explained her son had been involved in violent incidents in the past but she thought he had settled down with his second wife.
Mrs Ajao told the inquest she remained unaware of the Westminster attack until she watched the news at 22:00 that night which featured images of her son at the scene.
"As soon as I saw the body, I just knew. I just knew," she added.
Turning to the victims' families after her evidence, Mrs Ajao added: "Please understand I continue to be deeply saddened by the hurt that my son has caused and want to offer my deepest sympathies and condolences."