Train delays: Who is responsible for running the railways?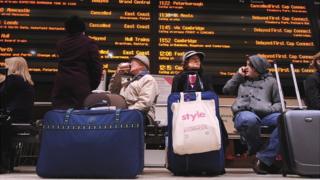 The fact that "no-one took charge" was the cause of weeks of delays and cancellations for train passengers across England earlier in the year, according to independent regulator, the Office of Rail and Road (ORR).
But the question of who should have taken charge is not clear-cut, because no single body owns or is responsible for the whole railway system.
Tracks, tunnels, bridges
Network Rail is the company responsible for the British rail network's infrastructure.
That includes tracks and signalling as well as tunnels, bridges and level crossings.
It employs and contracts the people who maintain and repair the tracks and other infrastructure.
And it is completely publically owned - its predecessor, Railtrack, was sold to the private sector in 1996 and went into administration in 2001. Rail infrastructure was renationalised the following year.
It receives its money in the form of direct grants from government and from charging train operators to use the network.
So that's the tracks.
Running the lines
Then there are the services that use those tracks.
Train operating companies run services and most stations and set their own fares and timetables - to an extent.
But they have to bid for slots in Network Rail's overall track timetable. And about half of all fares are regulated, meaning levels are overseen by government.
Train operators are private companies which get their money from passenger fares and government subsidies. They have to pay Network Rail to use its tracks.
There are 33 of these train-operating companies in Britain, of which 20 run what is known as franchised passenger services around the country, including Northern, Great Western, Scotrail and Thameslink.
That means they have been awarded a contract to run a service in a particular area by governments in England, Scotland and Wales.
The rest are franchised on a more local level (by Transport for London for example) or are private operators that buy slots in the timetable rather than winning contracts to run whole services.
Northern Ireland's rail system is still nationalised.
Trains
The trains themselves - known in the business as "rolling stock" - are owned by rolling stock companies which lease the trains out to the operating companies.
There are nine in operation in the UK.
Government
The government pays grants to Network Rail and subsidies to train operating companies.
It is responsible for awarding franchises - which must also be approved by the ORR - and for stepping in if those franchises fail.
It has overall responsibility for the "strategic direction" of the railway.
ORR
As well as approving franchises, the ORR also regulates the safety of the railway.
Other governments
Although the UK government awards these franchises, a number of the franchise holders are companies with links to other countries' governments.
The Arriva group, for example, is run by German company Deutsche Bahn, whose majority shareholder is the German government.
The c2c line from London to the east coast is run by a company owned by Italian State Railways.
And Govia (which runs lines including Thameslink and Southern) is part-owned by French company Keolis, whose main shareholder is state-owned rail company SNCF.