Fetishised and forgotten: Why bisexuals want acceptance
By Chris Hemmings
Victoria Derbyshire programme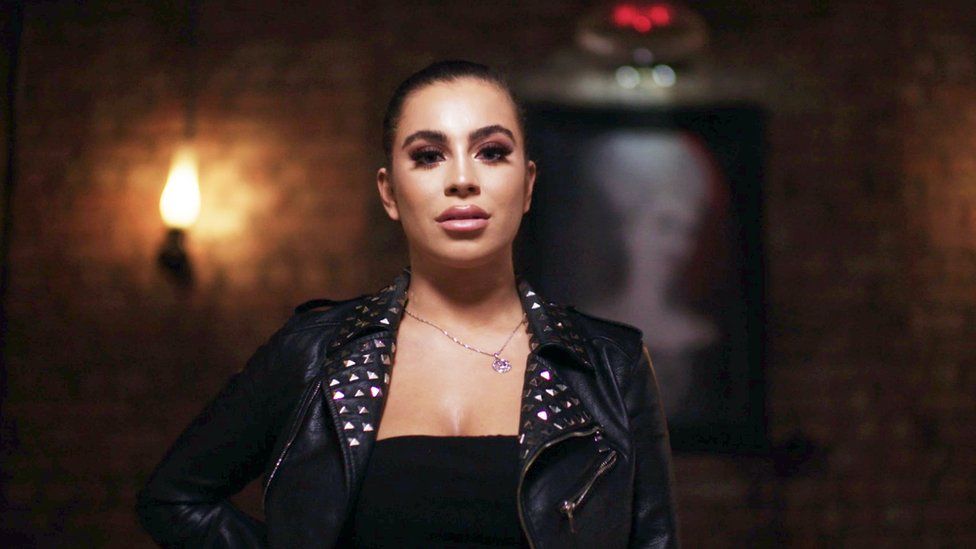 Bisexuals face hostility from their own LGBT community and are subject to the offensive narrative that they are "on their way to being gay", the head of LGBT rights charity Stonewall has said. Many feel their sexuality is seen as being "greedy" and fetishised.
When Katie Salmon left Love Island, in 2016, having been in the show's first, and only, same-sex relationship, with fellow contestant Sophie Gradon, she was unsure what the reaction would be from her family.
What she did not expect was to face biphobia from her own LGBT community in Liverpool, she says, many of whom accused her of doing it for publicity.
"I felt like they all doubted [that I was bi], were criticising me," she tells the BBC's Victoria Derbyshire programme.
Of all the messages she received, she says, it was this that "hurt me the most".
"I was really upset to be honest that they'd not supported me - my own community who had probably felt those [same] nervous feelings of coming out."
Since then, however, her sexuality has also been undermined by men who fetishise the fact that she is attracted to women, she says.
"They see it as a sexual thing. They think it's entertainment for them."
"They'll be like, 'Oh, you like women as well, you like threesomes.'"
Katie is not alone in facing biphobia - including from the LGBT community.
The head of the charity Stonewall, Ruth Hunt, describes it as a "very real problem".
"We know from all our evidence that bi people really do worry about the hostility they experience from our own communities," she says.
"I think there is an anxiety from lesbian and gay people that bi people don't really belong and they're not proper. And it's a deeply offensive, stereotypical, stigmatising narrative - but it's something that's really popular and keeps being perpetuated.
"For men, it's presumed they're on their way to being gay. And for women, it's presumed that they're trying it out."
The charity's research suggests 27% of bi women and 18% of bi men have experienced biphobia from within the LGBT community.
Lewis Oakley first had a boyfriend aged 19, after moving to London, and spent a lot of time in the gay community.
But when that relationship ended and he began dating a woman, he says, he was shamed by some of his friends - even though they knew he was bisexual.
"I was out at a club and I met a girl and we were kissing. And then some of my gay friends took pictures of it and put it on a group chat.
"[They were] saying things like, 'Oh, disgusting, a gay guy being seduced [by a woman] in Soho,' all that kind of stuff.
"Can you imagine if I'd taken a picture of them kissing a guy and had written this? You'd think there would be more empathy - but there's not."
Lewis says he has heard on many occasions people questioning his sexuality, saying that he'll "figure out" that he is gay eventually.
"For me, that's really irritating," he says. "I dated a guy for two years - if I was gay, I would [come out as] gay."
He has also found people interfering with his relationship because he is bi.
People have told his girlfriend, he says, "that you need to break up with him".
They have told her things such as: "'You'll eventually find him in bed with a man.' 'How will you ever satisfy all his needs?' 'Oh, he'll be looking at guys,'" he says.
A report from the Open University has previously suggested rates of depression, anxiety, self-harm and suicide are higher among bisexuals than heterosexual and homosexual groups.
And Stonewall has suggested a third of bi people (32%) are not open about their sexual orientation to anyone in their family, compared with 8% of lesbians and gay men.
Lewis says that many bi people feel alone because as a group they are "invisible".
If a man is seen with another man, he says, they are presumed to be gay. If seen with a woman, they are presumed to be straight.
Ms Hunt believes if bi people are to be - and feel - more accepted, their portrayal in the media must change.
"You never see bi characters faithfully and respectfully portrayed on television, at all," she says.
"When you see someone bi on television it is always a matter of indecision, crisis and conflict."
Katie Salmon says when her sexuality was questioned after Love Island, she was left asking herself: "Why can't I be who I want to be?"
But she wants to share with others that they should be proud of who they are, even in the face of being stigmatised.
"There's nothing to be ashamed of. There's nothing to feel bad about," she says.
"You're completely normal. And there's so many people out there like you - just as long as you love you that's all that matters."
Watch the BBC's Victoria Derbyshire programme on weekdays between 09:00 and 11:00 BST on BBC Two and the BBC News channel in the UK and on iPlayer afterwards.