Grenfell Inquiry: I hope you get justice, says firefighter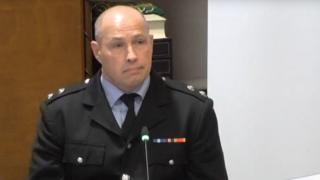 A firefighter who pressed his supervisors to abandon the policy of telling residents to "stay put" during the Grenfell Tower fire has said he hopes victims' families get "justice".
Norman Harrison, a watch manager with 25 years' experience, was called to the fire at 01:15 BST - more than 90 minutes before the advice was reversed.
He said he made his case in a way that was "impossible" not to hear.
Mr Harrison told the families: "I hope you get the justice you deserve."
Senior fire officers initially told residents in Grenfell Tower to stay in their flats - in accordance with the policy for high-rise buildings.
However, as the blaze cut off upper floors from rescuers, the stay-put advice was abandoned at 02:47.
'Shocked'
Giving evidence at the Grenfell Inquiry, Mr Harrison said he tried to get the stay-put strategy abandoned much earlier.
He said the advice was redundant by around 01:50.
"I was truly shocked at such a severe fire over so many floors," he said.
"The stay-put policy is predicated upon the assumption that someone can stay in their flat, safe, from the one compartment that is alight somewhere in the building and they're not going to be affected by the fire - either flames, heat or smoke.
"I could see that just didn't apply here any more."
He said the external face of Grenfell Tower reminded him "of the surface of the Sun", adding that he had "never seen a fire like it".
However, any evacuation of the block would have been "extremely difficult", Mr Harrison added.
"I knew it was going to be an extremely difficult task to achieve and there was going to be no easy way to achieve it," he added.