No-deal Brexit 'could make policing harder'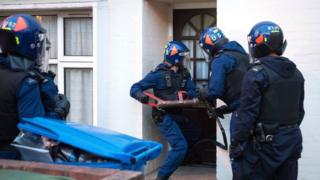 A no-deal Brexit would make it harder to protect UK citizens, a leading police officer has warned.
The Home Office has given £2m to police to work on replacing systems such as the European Arrest Warrant.
Sara Thornton, chair of the National Police Chiefs' Council said fallback systems would be slower.
She said it could be harder to pursue suspects like those blamed for the poisoning of a former Russian double agent and his daughter in March.
EU chief negotiator Michel Barnier has ruled out Britain using the European Arrest Warrant after Brexit. At the moment, it is used more than 1,500 times a year.
UK Police face losing access to 40 law enforcement tools under a no-deal Brexit, such as the Schengen Information System, an intelligence database used 539 million times last year by British authorities to look up suspects and vehicles.
The fallback is an Interpol system which is not automated.
'More bureaucratic'
It takes an average of six days to check whether a foreign national has criminal convictions in their home country under existing systems.
Under a no-deal Brexit, that would rise to an estimated 66 days, according to Met Police Deputy Assistant Commissioner Richard Martin.
Ms Thornton said: "The fallbacks we're going to have to use will be slower, will be more bureaucratic and it will make it harder for us to protect UK citizens and make it harder to protect EU citizens.
"We are determined to do everything we can to mitigate that, but it will be hard."
She said the case of the suspected Russian military officers believed to have carried out the Novichok attack in Salisbury illustrated the problem.
"If they are to step out of Russia into Europe there are European Arrest Warrants waiting for them.
"If we lose the European Arrest Warrant on March 29 because there was no deal, no agreement, then we have to rely on the 1957 convention and its longer, more complicated extradition process and they don't always apply in all countries."
Other systems which could be lost include:
Europol - the EU law enforcement agency, which was co-ordinating 51 joint investigations involving the UK, as of February 2018. Britain is also one of the biggest contributors of intelligence to the organisation.
ECRIS - the European Criminal Records Information System, used for around 173,000 criminal records checks a year by the UK.
EMPACT - the European Multidisciplinary Platform Against Crime Threats, which is used in the fight against serious and organised crime, as well as trafficking.
Steve Rodhouse, director general of operations at the National Crime Agency, said: "Our ability to track criminals' movements, monitor sex offenders and locate fugitives will be reduced."
He said UK law enforcement was "preparing for all possible outcomes" but that alternative approaches would be "much more labour-intensive and time-consuming".
New pressures
The National Police Chiefs' Council has set up a 50-person unit to determine how to replace systems lost with the end of EU agreements.
Another team is examining what new pressures policing a hard Brexit might create.
These might include transport disruption and changes in patterns of crime and disorder.
Chief Constable Charlie Hall, the council's lead for operations, said they were using lessons learned in the riots of 2011 in England.
But he added that there was no current intelligence to suggest there would be a rise in crime.
A Home Office spokesman said: "We do not want or expect a no-deal scenario and are confident that we will secure a deal with the EU."
The government is seeking a "comprehensive" agreement, including data sharing and extradition, he said.
But he said contingency plans were being drawn up for the "unlikely event" of reaching March 2019 without a deal.