Grenfell Inquiry: Call operator haunted by victim's voice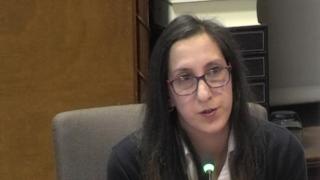 A control room operator has told the Grenfell Tower fire inquiry the voice of one victim kept "going round and round" in her head after she finished work on 14 June last year.
Aisha Jabin spoke to a woman called Debbie, believed to be victim Deborah Lamprell, 45, whose body was found in a 23rd floor flat with six others.
Ms Jabin said she froze when she heard the sound of a baby crying in the flat.
Another operator did not tell people to stay in their flats, the inquiry heard.
Angie Gotts said she was reluctant to advise residents to stay in a burning building since the Lakanal House fire in 2009 in south London, where six people were killed.
'Distraught'
In a written statement, Ms Jabin described speaking to the resident of the 16th floor, who had sought shelter on the highest floor, and was "immediately screaming down the phone that she could not get out".
Ms Lamprell said she was among 11 residents, including children, barricaded in the top-floor flat.
"She told me that they had barricaded themselves in as much as they could but she was completely distraught," the statement said.
"She told me that there was not much smoke in the flat but that it was starting to get hot.
"I told her the usual guidance - get down low and as they had already barricaded themselves in I just tried to reassure her as much as I could."
At this point, the so-called stay-put policy was still in place for residents.
But Ms Jabin said her "heart sank" when she realised firefighters were carrying out rescues on the third floor - 20 levels below Ms Lamprell and her neighbours.
When the call operator heard the "loud crack" of the flat's windows shattering, her advice changed.
"I did tell her to get out of the flat immediately," she told the inquiry. "Unfortunately she couldn't."
Ms Jabin said she "froze" when she realised children were amongst those trapped.
"I am a mother and the thought of children being trapped and not able to breathe really affected me," the statement said.
Ms Lamprell's condition deteriorated and the transcript of the call shows her telling the operator: "I can't do this any more... It's too hot, it's too smoky."
"The call went from being really manic at the start and throughout most of it and then really, really quiet," Ms Jabin said in her statement.
"Eventually all I could hear was heavy breathing and what sounded like moaning. Eventually Debbie stopped responding completely and I had lost her."
The phone call lasted 40 minutes before she "lost her", the inquiry heard.
After the call ended, Ms Jabin saw footage of the burning tower and said she was glad she had not seen it before, as "it would have been very difficult to detach myself from what was happening".
She said she "cried a lot" as she drove home from her shift, hearing Ms Lamprell's voice in her head.
'I will not tell them to stay'
Another control room officer, based in Stratford, east London, also gave evidence on Monday.
Angie Gotts took around 80 calls on the night of the fire, but said she would not tell residents to stay in their flats, having had a friend who had worked during the deadly tower block fire at Lakanal House fire in 2009.
"A friend of mine was blamed for the advice she gave to a resident and the advice she gave her was exactly what she was supposed to have done... the blame was all put on her," she said in her statement.
"I will tell the caller what I can and I will certainly pass all of their details (flat number, floor number, number of people and location) to the firefighters but I will not tell them to stay."
Hours into the fire, Ms Gotts recalled the volume of calls coming in dropping off.
"The lack of calls made it eerie in the control room. Someone said, 'What does this mean?' but we all know what it meant," she wrote.
"The atmosphere was one of stunned silence."
The public inquiry continues.