Scallop row: UK and French fishermen strike a deal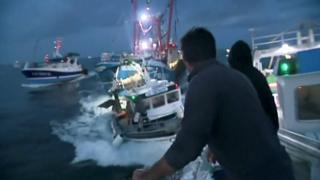 British and French fishermen have reached a deal to end the scrap over scallops in the English Channel.
The agreement, starting on Tuesday, will see larger British boats withdrawing in return for greater fishing rights elsewhere.
In August, boats collided and fishermen threw stones at each other as the French accused UK boats of depleting scallop stocks.
British fishermen said they were legally entitled to fish there.
Under the terms of the new deal, UK scallop dredgers over 15m long will leave the scallop beds off the coast of Normandy from midnight for six weeks.
In return, France will transfer fishing rights for scallops in areas such as the Irish Sea.
Smaller British boats are not restricted under the deal and can continue to fish in the Bay of Seine, where the row broke out.
Fisheries minister George Eustice said: "I commend the UK fishing industry for its patience throughout negotiations and welcome this pragmatic outcome."
There have been tensions over scallop supplies in the area for 15 years.
French rules prevent scallop fishing between 15 May and 1 October - allowing stocks to recover in the spawning season - but British boats can fish year-round.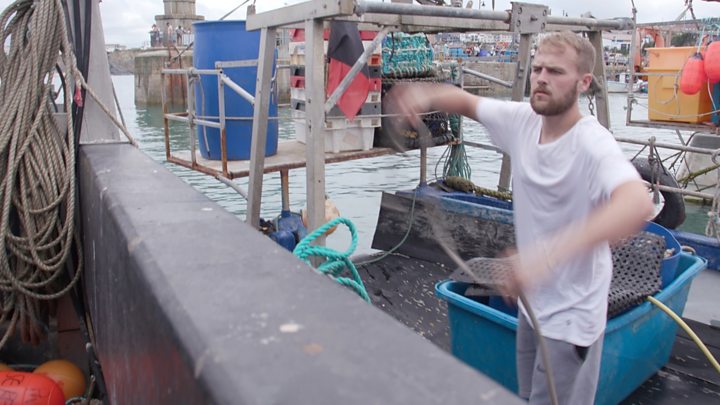 Over the past five years a deal kept the peace, with larger British boats staying out of the area in return for more fishing rights elsewhere.
That deal lapsed, but when UK boats returned overnight on August 27 they were met by around 40 French craft and pelted with rocks. French police said both sides threw missiles.
The action was condemned by Mike Park, chief executive of the Scottish White Fish Producers Association, as "high seas piracy".
About 1,350 jobs depend on the £120m UK scallop industry. About 60% of the catch is exported - with much of it being bought by the French.
But experts warned in 2016 that the fishing effort by France, the UK, Belgium and Ireland in the Bay of Seine was depleting stocks too fast.
An earlier attempt to broker a deal was scuppered. The UK and France had tried to reach an agreement which would see all British boats staying out of the disputed territory during the French no-fishing period.
But the parties could not agree on the compensation package for British boats, which had been free to harvest scallops there throughout the year.