Model uses breast pump on London Fashion Week catwalk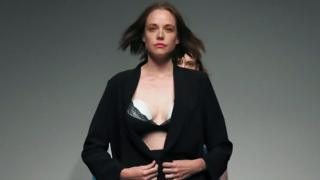 A model who recently gave birth to her second child walked down the catwalk at London Fashion Week while using wearable breast pumps.
Valeria Garcia wore the portable devices while modelling at the Marta Jakubowski fashion show on Friday.
The pumps were worn under a bra and a black trouser suit ensemble.
It comes after model Mara Martin was praised for breastfeeding her baby while walking in a Sports Illustrated show earlier this year in Miami.
Mother-of-two Ms Garcia, who is from Argentina, gave birth to her son Anton in June.
The device she wore, called the Elvie pump, connects to a smartphone app and allows mothers to express milk underneath their bras.
In July, model Mara Martin walked down the catwalk at the Sports Illustrated swimsuit show in a gold bikini while breastfeeding her daughter Aria, who was five months old at the time.
Many social media users praised the model as "inspiring", but some accused her of attention seeking.
At the time, Ms Martin, who was chosen in an open casting, wrote on Instagram: "I can't believe I am waking up to headlines with me and my daughter in them for doing something I do every day."
In July, American model Chrissy Teigen posted a picture of her breastfeeding one of her children, and mock-feeding their baby doll, on Instagram.
Breastfeeding campaigners said they were grateful to Chrissy for sharing her photo but not all the reaction was positive.
Responding to a tweet critcising her post, she said the reason her breastfeeding became a big deal was because of other people's "issues", and that feeding a baby should not be a big deal.