Westminster attack: PC Keith Palmer 'left unprotected' at Parliament gate, says family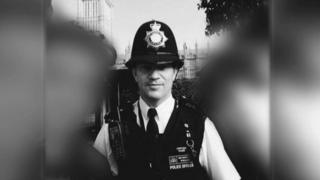 The family of PC Keith Palmer have raised concerns about the lack of armed protection at the gates of Parliament during last year's Westminster attack.
His widow's lawyer told an inquest into the victims' deaths that he had just "a spray and a baton" to protect himself.
Khalid Masood killed the unarmed officer after driving into pedestrians on Westminster Bridge on 22 March 2017.
Kurt Cochran, 54, Leslie Rhodes, 75, Aysha Frade, 44, and Andreea Cristea, 31, were also killed.
Masood was shot dead by armed officers during the attack.
A police officer told the inquest that the procedure of having armed officers on the gate had been changed to having roving patrols around the area instead.
This meant unarmed officers would be "left as a matter of routine unprotected", lawyer Dominic Adamson, representing PC Palmer's widow, Michelle, said.
"[This means that in] an attack such as the one that occurred an officer would be left with a spray and a baton against a large man with two knives. It is not an equal fight," he added.
The inquest, taking place at the Old Bailey in London, was shown "distressing" and "vivid" footage of the moment PC Palmer was stabbed in New Palace Yard, as well as a "chilling" image of Masood with a carving knife in each hand.
The footage showed the attacker being momentarily distracted by other officers, allowing PC Palmer time to run further into the yard.
Masood followed, but within moments, plainclothes armed officers shot and killed him.
The court was also shown mobile phone footage of people rushing to offer first aid.
'Utterly helpless'
PC Doug Glaze, an unarmed officer posted on the gates, was asked whether a chance to save PC Palmer's life had been "lost" because no firearms officers were present at the gate.
"Certainly had firearms officers been there the threat maybe could have been neutralised quicker," PC Glaze said.
Two of PC Palmer's sisters, Angela Clark and Michelle Palmer, also raised concerns that there had not been armed officers around to protect their brother on the day of the attack.
Their lawyer, Susannah Stevens, said they were "extremely distressed" that nobody from the Metropolitan Police had spoken to them to let them know there was "any issue" around the absence of armed officers.
She added that, if armed officers had been stationed at the gates, then PC Palmer and his colleagues would have been able "to retreat", instead of being left "utterly helpless".
Nicholas Moss, counsel for the Parliamentary Authorities, said: "PC Palmer's death resulted from Masood's evil actions, full stop."
He added that any questions of "missed opportunities or steps that could have been taken" would be properly explored.
'The knives went up'
The inquest also heard from witnesses to the attack, including Carl Knight, who saw events unfold from the top deck of a bus.
In his statement read to the court, Mr Knight said he heard a "loud bang" that sounded like a "small explosion" or a "backfiring car", as Masood's vehicle crashed into the railings outside Parliament.
The witness saw a pedestrian approach him to ask what was happening, but Masood replied by swearing at him, revealing the knives, and saying: "You don't want to mess with me."
Mr Knight said: "As soon as the knives went up it went from car accident to attack."
---
Reliving the attack
By Helena Lee, BBC News correspondent
A photograph of PC Palmer standing next to a smiling American tourist was put up on screens as the inquest began evidence relating to his death. It served as a reminder of the man described as the "public face of Parliament".
The court was then taken back to that horrific day in March last year, as harrowing images and footage played out of PC Palmer being attacked.
The frantic and desperate voices of those who tried to save him filled the hushed courtroom.
They went on and on - the screaming, the panic, the horror.
Witnesses came and went, telling their stories of what they remember from that day.
For them reliving what they saw can't have been easy.
---
Mr Knight said he saw pedestrians running away from Masood, including a woman hugging her child and saying: "Don't kill me."
"I could hear screaming coming from downstairs [on the bus] and women's voices shouting, 'Drive,' and, 'Let me off the bus,'" he said in his statement.
Antonia Kerridge, who was working in Portcullis House - where many MPs have their offices and which overlooks Parliament - told the court that she assumed there was some kind of demonstration when she heard a crash and the sound of cheering.
But, after looking through the window, she said: "I realised the cheering sound was people screaming."
'Frenzied'
Mr Knight saw Masood break into a run to the entrance to Parliament, saying: "It was as if there were no guards on the gate."
He described a struggle between Masood and PC Palmer, saying: "They were both grabbing each other and tumbling to the floor."
He said Masood "seemed to get the better of the officer".
PC Doug Glaze said he thought at the time it was a "Mumbai-style attack" and shouted for "firearms".
He told the court: "I saw who I now know to be Masood inside the grounds.
"I noticed two extremely large knives, one in each hand. He was walking like a robot with his arms going up and down."
Asked about his reaction, PC Glaze added: "I remember thinking 'We're going to die.'"