Skripal suspects' tourist claims 'offensive to victims'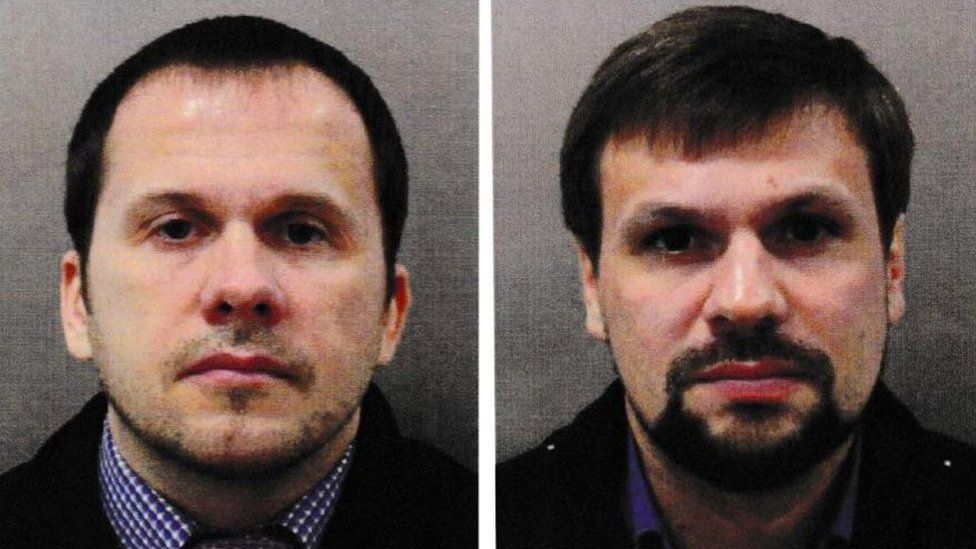 Claims the suspects in the poisoning of a Russian ex-spy were only in the UK as tourists are "deeply offensive to the victims", the UK government has said.
The two men told the state-run RT channel they had travelled to Salisbury on the recommendation of friends.
Downing Street described the interview as "lies and blatant fabrications".
The UK believes the men are Russian military intelligence officers who tried to kill ex-spy Sergei Skripal and his daughter Yulia in March.
"The lies and blatant fabrications in this interview given to a Russian state-sponsored TV station are an insult to the public's intelligence," Prime Minister Theresa May's spokesman said.
"More importantly, they are deeply offensive to the victims and loved ones of this horrific attack. Sadly, it is what we have come to expect."
Foreign Secretary Jeremy Hunt tweeted: "Time to stop the fake TV shows - the world has found Russia out on this."
The two suspects have been named as Alexander Petrov and Ruslan Boshirov.
What do the two Russians say?
Appearing nervous and uncomfortable, the men confirmed their names as those announced by the UK investigators - Alexander Petrov and Ruslan Boshirov. "Those are our real names," they said.
The men said they worked in the sports nutrition business and had travelled to London for a short holiday, fitting in a couple of day trips to Salisbury.
"Our friends had been suggesting for a long time that we visit this wonderful town," Mr Petrov said.
Mr Boshirov added: "There is the famous Salisbury cathedral, well known not just across Europe, but probably around the whole world.
"It's known for its 123m-tall spire. It's known for its clock, the first clock to ever be invented in the world, which is still working."
They said they only stayed an hour in Salisbury on Saturday 3 March because of the snowy weather conditions.
Mr Petrov said: "Of course, we went there to see Stonehenge, Old Sarum, but we couldn't do it because there was muddy slush everywhere."
They said they returned on Sunday 4 March to visit the sights.
The two men admitted they may have passed Mr Skripal's house by chance "but we don't know where it is located," Mr Petrov said.
When asked about Novichok, they emphatically denied carrying it, or the modified Nina Ricci perfume bottle which UK investigators say contained the substance.
"For normal blokes, to be carrying women's perfume with us, isn't that silly?" Mr Boshirov asked.
The two men told RT their lives had been "turned upside down" by the allegations.
"We're afraid to go out, we fear for ourselves, our lives and lives of our loved ones," said Mr Boshirov.
RT is Russia's state-run international broadcaster, and the pair were interviewed by its chief editor, Margarita Simonyan. "Their passports match and the photos and the information from the British side shows it's these people," she said.
The BBC's Sarah Rainsford in Moscow described the interview as carefully choreographed and bizarre, pointing out that in tone and content it matched the whole Russian response to the case - flat denial mixed with mockery.
What are the UK allegations?
British police believe the men to be officers of Russian military intelligence, GRU, who may have travelled on false passports to London from Moscow in March.
They say the purpose of the men's visit to Salisbury on 3 March was reconnaissance, and on 4 March they returned to apply Novichok to the Skripals' front door.
The Crown Prosecution Service (CPS) says there is enough evidence to convict the two men, although it is not applying to Russia for their extradition because Russia does not extradite its own nationals.
However, a European Arrest Warrant has been obtained in case they travel to the EU, and Home Secretary Sajid Javid has warned that the men will be caught and prosecuted if they ever step out of Russia.
Answers, but still questions
BBC security correspondent Gordon Corera
The appearance of the two men looks like the next step in the struggle between London and Moscow to convince their own publics and those around the world about their respective cases.
The amount of detail put out by British police last week, and the direct accusation that the men were officers in Russian military intelligence, was something the Kremlin will not have wanted to go unchallenged.
And the Russian government will be hoping this interview will generate sympathy at home for what are said to be a pair of sports nutrition salesmen who wanted to see a beautiful English cathedral with its 123-metre spire, but who instead have found themselves accused of being assassins.
But the risk for Russia is that the interview raises more questions than it answers and offers more details for sceptics to unpick and challenge.
How plausible are the men generally and specifically about their reasons for visiting Salisbury? How plausible is their account of their movements around the town when compared to the CCTV? And given the UK has suggested the names they use are pseudonyms, how convincing are their stories about who they are, including their past, their jobs and their travel?
At around 15:00 GMT on Friday 2 March, the two men arrived at Gatwick Airport
Police say they travelled to London Victoria at 17:40 GMT, and were at Waterloo Station between 18:00 and 19:00 GMT before travelling to their London hotel
At 11:45 GMT on Saturday 3 March, they took a train from Waterloo Station to Salisbury
CCTV footage shows the men in Salisbury around 14:25 GMT
The men say they spent less than an hour in Salisbury, deciding against seeing Stonehenge, Old Sarum and Salisbury Cathedral because of "muddy slush everywhere"
CCTV footage shows the men taking a train back to London at 16:11 GMT
On Sunday 4 March, CCTV cameras filmed the men arriving at Salisbury train station at 11:48 GMT
Police say they were then seen on CCTV near the home of Sergei Skripal at 11:58 GMT
The men say they then visited Salisbury Cathedral
CCTV footage shows the men leaving Salisbury station at 13:50 GMT
At 19:28 GMT, the men were at Heathrow Airport for an Aeroflot flight to Moscow
What happened to the Skripals?
Yulia Skripal flew in to the UK from Russia on Saturday 3 March to visit her father, Sergei Skripal, a former Russian double agent who was living in Salisbury.
They were found "in an extremely serious condition" on a bench outside a restaurant in Salisbury on 4 March.
They spent weeks in intensive care in hospital before recovering. Ms Skripal was discharged from hospital on 9 April and her father on 18 May. They are both now in a secure location.
UK police are linking the attack to a separate Novichok poisoning on 30 June, when Dawn Sturgess and Charlie Rowley fell ill at a house in Amesbury, about 13km (eight miles) away.
Police said they were exposed after handling what they believed to be perfume.