Westminster Bridge inquest: Partner recalls girlfriend search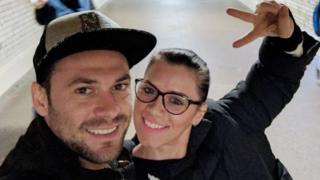 The partner of a woman killed in the 2017 Westminster terror attack has told an inquest he searched frantically for her after she was hit by the car.
Khalid Masood ran down and killed four people on Westminster Bridge before stabbing a police officer to death.
Romanian Andreea Cristea was visiting London with her boyfriend when Masood's car knocked her into the Thames. She died from her injuries two weeks later.
Andrei Burnaz said he ran all "over the bridge" looking for Ms Cristea.
He told the inquest, sitting at the Old Bailey, that he called her mobile and it rang - which he thought was a positive sign - but then found both it and her glasses "in a pool of blood".
Mr Burnaz added that after trying to get help from officers in his search he "thought maybe it would be better to jump in the river to search for her, but I didn't".
Those killed in the attack on 22 March last year were Kurt Cochran, 54, Leslie Rhodes, 75, Aysha Frade, 44, and Ms Cristea, 31.
Masood was shot dead at the scene by armed police officers.
Mr Burnaz wiped away tears as CCTV footage of their final moments together were shown to the court.
Speaking on the fourth day of the inquest, he told the hearing it had been "very busy, very crowded on both sides of the bridge", adding: "We stopped a little bit to take some pictures."
He said: "Very suddenly I heard some crashing and some noises in front of me.
"After that, loud banging. I heard something hit something and after that at the same time people were screaming."
He said he saw the car coming towards them and "it was very quick."
"The left part of the car was on the pavement and the right part was on the road," he added.
The witness told the inquest he then felt a "burning sensation" on one leg.
"After the vehicle passed I looked on the left side of me to search for Andreea, but I couldn't see her," he continued.
"I started searching for Andreea. I started running over the bridge."
Mr Burnaz said at one point he started running towards Masood's car to see if she had become stuck under it.
He said: "I saw plenty police officers armed with machine guns.
"I run and tried to explain to him what happened and tried to explain that I could not find my girlfriend. He only started yelling: 'Go back, go back, clear the area'."
He called Ms Cristea's sister to tell her what had happened, the court heard.
He described going to the other side of the bridge where he told a female police officer that his partner was "in the water right now".
The witness told the court he looked over both sides of the bridge but was unable to see Ms Cristea.
When he explained the situation to another officer, who told colleagues over a police radio, he said: "That was the first time that somebody took action about this."
Mr Burnaz said he was later taken to hospital to be treated himself and later still taken to see Ms Cristea in another hospital.
Witness Michael Brown had been driving his white van across the bridge when he saw Masood's Hyundai "hitting people as it drove along the pavement".
He told the Old Bailey he saw Ms Cristea go "10ft in the air" before "she came down straight into the Thames".
The witness described doing a "U-turn" and parking his van before looking into the river and calling 999 to raise the alarm.
At first he could not spot Ms Cristea, but then saw her "floating in the Thames face down".
Mr Brown said he then tried to assist others on the bridge. He described the scene as "carnage".
When the barrister representing Ms Cristea's family thanked him for his efforts that day, Mr Brown began weeping.
The witness also described "screaming just trying to get attention" of those on a boat below, which he did.
He said he even considered jumping into the water, but changed his mind because he cannot swim.
Confusion
The inquest heard that vital minutes were lost in trying to rescue Ms Cristea from the river.
Despite an emergency distress signal, along with shouts from Mr Brown and passengers on the City Cruises tourist clipper, the boat's first mate Danny Cooper initially thought Ms Cristea's body was "garbage".
Gareth Patterson QC, representing Ms Cristea's family, said she had been face down in the river for two minutes when she was first secured, but remained immersed for five minutes before the London Fire Brigade's Fire Flash boat arrived and pulled her aboard.
Mr Cooper said he thought Ms Cristea was dead and had been in the water "for a long time" and was worried the presumed body would "fall apart" if pulled aboard.
"It wouldn't have been nice for anyone involved," he said. "There were children sitting downstairs."
Mr Patterson asked: "Mr Cooper, there was nothing stopping her being lifted by a matter of inches to see if she was alive, to lift her face out of the water?"
"I don't know," Mr Cooper replied.
Witness Joanne Fant, an ambulance technician involved in helping Ms Cristea, said the victim "did actually squeeze my hand" after she had been taken ashore.
Witness Dr Samy Sadek oversaw Ms Cristea's care at the Royal London Hospital after the attack.
Mr Patterson asked if she might "have survived" if rescued from the water after two minutes when first seen by the pleasure boat - rather than the more than five minutes it took before the fire service boat recovered her.
"I have absolutely no way of knowing," Dr Sadek said.
Ms Cristea's family in Bucharest watched the proceedings via video link.
The inquest is set to last about five weeks. A separate inquest into the death of Masood will be held once the hearing into his victims' deaths has concluded.
The coroner is expected to examine Masood's background, police records, and look into the fact that he briefly featured in MI5 investigations in 2009 and 2010. The absence of armed officers at the scene will also be examined.