No-deal Brexit: UK food exports could get stuck at borders - National Audit Office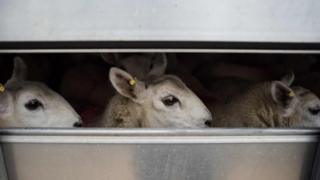 Food and livestock could be delayed at UK borders in the event of a no-deal Brexit, the National Audit Office says.
The public spending watchdog warns the government has failed to hire enough vets to process exports from the UK in its no-deal preparations.
The Department for Food and Rural Affairs says it's preparing for a range of scenarios and has hired extra staff.
But the Committee of Public Accounts chairwoman, Labour's Meg Hillier, said: "We are rapidly running out of time."
National Farmers Union president Minette Batters said the report showed Defra was not ready for a no-deal situation.
She warned a "crash-out scenario" would be "Armageddon" for British farmers, who needed a "free and frictionless trade deal" with the EU to operate.
Defra is one of the government departments most affected by Brexit.
It said the work it was doing would mean that environmental, welfare, and bio-security standards would continue to be met in a way that supported trade and "the smooth flow of goods."
But the NAO accused it of being unprepared for no deal, saying many of its plans were of "poor quality" or lacked maturity.
Live animal exports
Environment Secretary Michael Gove said Defra was preparing for "every eventuality" and increasing the number of vets available.
"We won't have food rotting or animals being destroyed by the side of the road," he told BBC Radio 4's Today.
In the interview he was also asked whether a ban on live animal exports would be introduced.
The government announced a six-week consultation on the policy in April.
Mr Gove said the government was still gathering evidence on any potential ban, adding "all options are on the table".
He said "restrictions" on live animal exports would be introduced but stopped short of confirming that there would be a ban.
Labour accused Mr Gove of "pedalling back on his promise to ban live exports" and called for the government to clarify its position.
A Conservative spokesperson said the party had consistently said it would control the export of live animals after Brexit and a ban remained "a possibility".
Labour's manifesto did not mention the issue, the spokesperson added.
Not enough vets
Defra needs vets to process export health certificates, which are used to prove food and livestock exports comply with animal health standards and regulations - a need which is expected to increase if the UK leaves the EU without a trade deal.
Without them consignments of food could be delayed at the border or prevented from leaving the UK, the NAO says.
It points out that Defra will also have to introduce a UK equivalent for each of 1,400 different versions of the current EU certificates, which currently refer to EU law, and agree these with 154 different countries in order to continue to export to them.
The NAO says Defra will simply not be able to reach agreements with all of these countries by March 2019, when Britain is due to leave the European union.
This could leave UK firms unable to export to some countries for a period after Brexit, it warns.
It comes as Mr Gove introduced a new Agriculture Bill in Parliament, intended to change the way farming subsidies are paid after Brexit.
The so-called "green Brexit" plan would see farmers paid for "public goods" such as improving access to the countryside or taking action to reduce flooding.
It also includes plans to make cash available for farmers who invest in new technologies and boost productivity.
The existing subsidies paid to farmers under the EU's Common Agricultural Policy will be phased out over seven years.
The NAO report also raises concerns about readiness for Brexit in the fishing and chemical manufacturing industries, saying that, while Defra had achieved a great deal, gaps remained.
Defra said it had already started to build new IT systems and develop new services to replace those currently provided by the EU and had hired 1,307 more staff for Brexit-related work.