What do students really eat?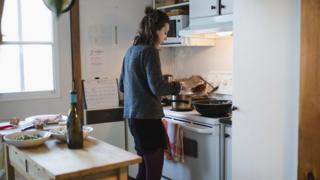 Rose harissa paste, organic cider vinegar and Swiss bouillon powder - ingredients needed for the "student store cupboard", according to one supermarket.
The assertion has led to predictable ridicule, with not even all five items on Waitrose's list combining to produce a recognisable meal for the £13 outlay.
Twenty-year-old Eleanor Gray, a third-year student at the University of Nottingham, tells the BBC the suggestions are "not very realistic" for those without a "large budget".
So what are students actually eating?
Catrin Stewart, 20, is in her final year at the University of Manchester and is currently food editor of the student paper.
Catrin says the diets of her contemporaries are "incredibly varied".`
"I'm in a unique position," she says. "I'm in a house of eight people and six are vegan.
"We have to be quite inventive with our food. We have lots of Asian influences, lots of experimenting."
Catrin admits, however, many students she knows survive on "takeaways and microwave meals".
Eleanor is a vegetarian, and says her flatmates often go without meat because "it's easier and less expensive".
She too says jar sauces and oven pizzas are a regular feature, but adds many "health conscious" students prefer to cook from scratch.
Both identify price as the most important factor in students' food-buying decisions, followed by ease of preparation.
Kelly Quinzel, a masters student at Manchester School of Art, says she spends around £10 per week on food as money is a "constant struggle".
She adds: "What I always do is have an egg with my meal, so sunny side up, or fried rice with an egg on top, pasta with an egg on top, baked potato with an egg on top."
---
Tips from a chef
Food writer and campaigner Jack Monroe, who has written extensively about cooking on a tight budget, has shared tips on making the most of student essentials:
Tinned tomatoes - "You can use it as the base for a curry sauce, a puttanesca, added to some stale bread for a pappa al pomodoro, or a panzanella."
Tomato ketchup - "It's salt, sugar, vinegar and tomato all in one handy squeezy bottle."
Baked beans - "Can be dumped into a casserole, stirred through a homely shepherd's pie, can extend a hotpot or casserole or adds a little childish whimsy - and protein - to a can of tomato soup."
Stuffing - "I use it on top of a mac 'n' cheese or lasagne, to thicken soups and add flavour, to batter nuggets and anything else that needs a crispy coating."
Lemon juice - "If something tastes a bit bland, boring or not quite there yet, I sling a generous dash of lemon juice into it."
---
Catrin says other issues are becoming increasingly important for those at university.
As well as opting for free range or fair trade ingredients where affordable, Catrin says students are "very aware of single-use plastics", and will often try to go to shops where fruit and vegetables are sold without packaging.
So what do students actually have in their kitchen cupboards?
"I use a lot of tinned tomatoes, kidney beans, things you can get cheap," says Eleanor. "Then I would say basic spices and things like garlic."
Catrin adds: "Tinned tomatoes are a base for any sauce or curry - and some sort of pulse like chickpeas.
"Once you've got them and some basic spices like cumin or curry powder you can use up any vegetables you have left in the fridge and that's a really good nourishing meal."
She adds that she "always" has pasta, rice, bread and snacks such as dried fruit and nuts "to provide protein and fibre".
---
What do mums suggest?
Justine Roberts, founder and chief executive of Mumsnet, has written her own list of essentials to give students before they head back to university:
Bags of standard carbohydrates - pasta, potatoes, rice, noodles - the backbone of any student meal
Green pesto - to go with, or on, pasta or baked potatoes
Baked beans - instant dinner for those evenings when you've got to hurry
Porridge oats - all the qualities of wet cement, but with more nutritional value
Oil - for frying or marinating (olive oil if you're feeling fancy)
Tins of tomatoes - for a wide variety of sauces, curries and casseroles
Tea bags and ground coffee - combine with a travel flask and they can save money
Jars of curry powder, dried chillies, mixed herbs and all-spice
Long-life milk or coffee creamer
Something extravagant or homemade they can't get enough of
---
Any other advice?
Effective budgeting of food is about more than just what you buy or cook, says Mary McGrath, chief executive of food waste charity FoodCycle.
"The average household wastes £470 worth of food a year, so reducing your food waste is an effective way of saving money when on a low budget," she says.
"Batch cooking and freezing meals is a great option for students who don't want to cook every day and who are often cooking for one.
"Making a meal plan is also a useful tool to ensure you are only buying what you need."