Design for Princess Diana's 'burka with a bow' on sale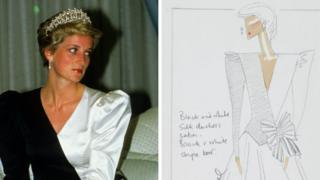 A design of a burka prepared for Princess Diana's 1986 tour to the Gulf region will be auctioned in the US this month.
Other items up for auction include dress designs and fabric samples.
The pieces come from the shop of David and Elizabeth Emanuel who designed the princess's wedding dress.
In a letter ordering the designs for the Gulf tour, Princess Diana's lady-in-waiting wrote: "In all cases modesty is the order of the day."
One folder from the designers is marked "The Gulf Tour 1986 Day & Evening Wear Designs".
It contains five original hand-drawn outfit designs including:
A burka marked as: "H.R.H. The Princess of Wales, Visit to Saudi Arabia, Nov. 1986, Reserve Outfit"
A "navy and white stripe coat over white faconné dress"
An evening dress of "purple faconné with diamanté buttons"
Another evening dress in "white silk crepe embroidered with bugle beads and tiny crystals and diamanté"
The designs are offered with the associated fabric samples. The collection is being sold by a private collector, with a guide price of $30,000 (£23,000).
The collection also includes a letter from Diana's lady-in-waiting to Elizabeth Emanuel in which Anne Beckwith-Smith requests designs for the Gulf tour.
Setting out requirements for the tour Ms Beckwith-Smith says: "In all cases modesty is the order of the day."
Princess Diana and Prince Charles made a six day tour of the Gulf states - including Saudi Arabia - in 1986.
The auctioneers said that during the trip Princess Diana "tried to conform to local customs by wearing concealing clothes but still exposed her neck and left her head uncovered".
"Notably, she did not have to wear the 'reserve outfit' burka depicted in this archive.
"At evening banquets, she appeared in the long-sleeved demure dresses made especially for the tour."