Don't release prisoners on Fridays, says Nacro charity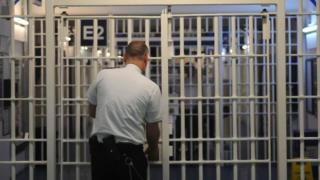 Prisoners should stop being released on Fridays because it can prove hard for them to access benefits, medication and assistance, campaigners have said.
A third of all prisoners in England and Wales are currently freed on a Friday but social justice charity Nacro says it is "often a race against the clock".
Some agencies close early, leaving newly-freed prisoners sleeping rough and at risk of re-offending, it says.
The Ministry of Justice confirmed it was examining Friday releases.
More than 25,000 prisoners were released on a Friday last year.
Nacro says while support may be put in place during the 12 weeks prior to release, "the day itself is often crucial for putting in place the basic building blocks for life outside of prison".
"We know that there is often a window of opportunity for people on release when they are keen to make change and move on," it said.
"However, this can be quickly lost when the barriers are too high and things are not in place to help them move forward and away from crime."
The charity said prisoners sometimes find they are without vital medication and have to survive on a £46 discharge grant until support services reopen on Monday.
Nacro chief executive Jacob Tas said ending Friday releases would be a "simple and cost-effective step" to take as the government consults on reforms to probation services and takes action to deal with violence and drugs in prisons.
The Ministry of Justice said "decisive action" was being taken to improve probation services, including spending £22m on extra support for offenders leaving prison.
A spokesperson said that as part of its consultation on probation reform it was already considering whether a Friday release presents "challenges" to people coming out of prison.
However, it said initial analysis suggests re-offending rates are not affected by prisoners being released on a Friday.