Rome fountain strippers sought by Italy police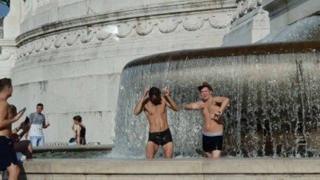 Two English-speaking tourists who are being hunted by police for stripping off in a monumental Italian fountain have been called "idiots" by the country's deputy prime minister.
The men were filmed frolicking in the fountain in Piazza Venezia in Rome, with one pulling down his underwear and posing for photographs.
The footage has sparked outrage and their behaviour called "ignorant".
Italian deputy PM Matteo Salvini said: "Italy is not their home bathroom".
The video, published on a blog in Rome, shows the pair in their underpants grinning and bathing in the fountain at the Altare della Patria, a monument in honour of the first king of Italy after the country's unification.
The monument also holds the Tomb of the Unknown Soldier, in memory of all fallen soldiers.
The two men laugh and joke with each other in the water, before one pulls down his underwear and smiles for the camera.
Some passers-by laugh and take photographs, although others can be seen shaking their head and appearing to tell the two men to get out of the fountain.
The local police said the incident, which happened on Sunday, was "illegal and offensive" and it was trying to find the two men.
It said the two people are foreign and "native English speakers".
'Lack of respect'
Matteo Salvini, the country's deputy prime minister, tweeted: "I will know how to educate these idiots if they are caught.
"Italy is not their home bathroom."
Meanwhile, Rome's deputy mayor Luca Bergamo said he condemns their behaviour, which he said "offends each of us, the memory of our country and the fallen, to whom the monument is dedicated".
"We are faced with a behaviour that denotes stupidity and ignorance, lack of respect for the history of Rome and Italy.
"Once identified by the local police, who is actively working to track them down, they will get the maximum punishment possible".
Earlier this month, the Guardian reported that a fight broke out between tourists as they queued for a "perfect selfie" at Rome's Trevi Fountain.