The comedian who really doesn't want to die on stage
By Alex Regan
BBC News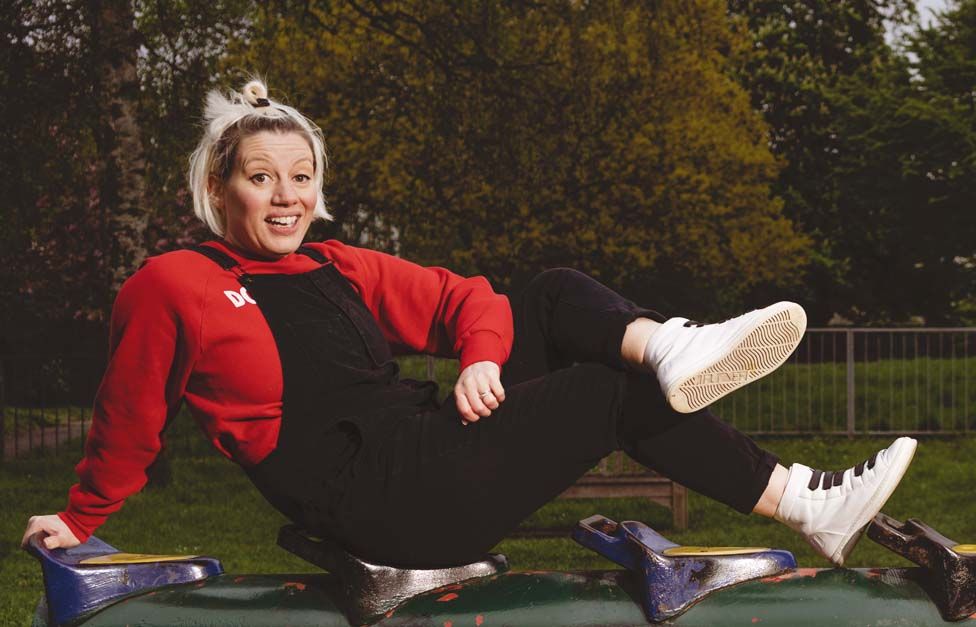 To die on stage is a comedian's worst nightmare. But for one comic, performing could literally be a matter of life or death.
In February last year, Rebecca Shorrocks was preparing for an audition. In the morning she went for a run, but began to have heart palpitations.
"I didn't think anything of it, I had experienced it before," she said. She went about her day, went to the audition, and came home to see her husband Paul.
"Paul looked at me. I'd gone a funny shade of grey. My neck was vibrating."
After checking her, medical staff were amazed she'd been able to stay conscious. They defibrillated the 36-year-old to shock her heart back into a normal rhythm.
It had been beating at 250 beats a minute.
Actress and comedian Shorrocks has been on stage for nearly 20 years, and has worked alongside her husband - stand up comedian Paul F Taylor - since 2010.
But last year she found out she had arrhythmogenic right ventricular cardiomyopathy (ARVC) - a hereditary disease that can lead to sudden cardiac arrest.
The condition is similar to that of Premier League footballer Fabrice Muamba, who collapsed on the pitch during an FA Cup game in 2012. He recovered despite his heart having stopped for 78 minutes, but it ended his career as a top-flight footballer.
"The condition is quite rare, they think there are more people living with it," Shorrocks says.
"Or with 80% of people it's found post-mortem. I'm pretty lucky that they did discover it."
After the diagnosis, Shorrocks was fitted with an internal defibrillator, which shocks her when her heart rate rises to a dangerous level.
Before she was diagnosed the performer had completed a 52-show run in pantomime in Whitley Bay, Tyne and Wear, she was training for a marathon, and preparing for a month-long set of shows at the Edinburgh Fringe.
But the diagnosis meant running was out of the question, and performing could be tricky.
"When you're first diagnosed your world is sent into a spin and you have to get your head around the fact that you're not immortal," she says.
"And because there's so much uncertainty, there's a lot of anxiety that you have to deal with."
Shorrocks says she was determined not to let the condition stop her from getting up on stage.
"I've always felt like performing is what I was born to do and it just keeps me sane."
She and her husband have returned to the Fringe this year as Short and Curly, a fast-paced and high energy sketch show - her first intensive run of shows since the diagnosis.
"Bizarrely the one place I don't feel anxiety is on stage, and any anxiety that you have is being put to use on stage," she says.
"It's exhilarating when it goes well," Taylor says.
"And also we've got the added extra tension of a heart condition, so there's lots of jeopardy," he jokes.
But there are concerns the adrenaline of performing could affect Shorrocks' heart rate.
'Performing helped me return to normality'
"It has dawned on me that I might be doing some damage," she says.
"But that's the tricky thing about this condition; I won't really know if it's really affecting me until it's too late."
Shorrocks is constantly changing costumes between sketches. One moment she's dressed in a full bear suit, the next she dons an Orville the duck costume.
"Every time she comes out in a new costume we slow the show down a little bit, and I get a little nod from Becky to see if she's OK," Taylor says.
"The worst thing that could possibly happen is she faints in the show. It might be a great PR opportunity but that's not what we want," he says, tongue-in-cheek.
So far they say everything has gone well, and they are on course to complete their run of 26 shows over 27 days in Edinburgh.
"It's fun in a way that being on stage on your own isn't, because you're sharing it with someone else," Taylor says.
"A lot of people do say when they watch us it's quite a lot of fun, because it looks like there could be an argument brewing about something genuine.
"It's the dynamic of what's going on behind the couple."
But there is anxiety about whether Shorrocks can continue performing in the future.
When the pair return from the Fringe to their home in London, she will go for an MRI scan to assess if the intense month-long set of shows has had a lasting effect on her heart.
So are the potential health implications worth the risk?
"Yes because - although it sounds cheesy - it's helping me return to normality," Shorrocks says.
"I don't know whether I'll do Edinburgh again but I guess it'll depend on the results of the tests when I get back."
Her husband agrees with her. "I think Becky's embraced it in a very positive way because she's not letting it limit her in any sort of way.
"Even if it does shorten her life at least she's led her life to the fullest."