Flat collapse-risk residents 'living in fear'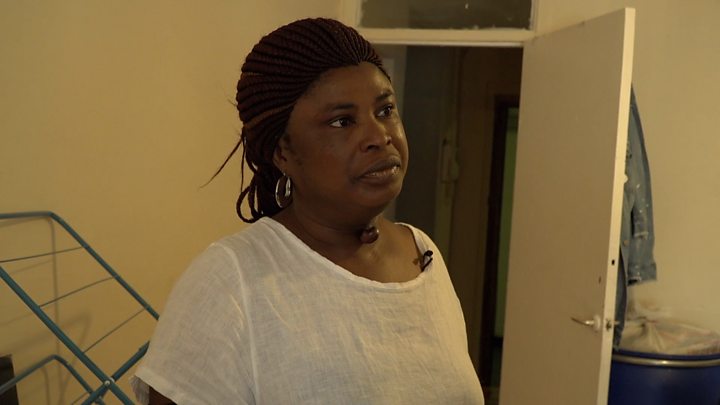 Families living in a north London block of flats judged to be at risk of collapse have told the Victoria Derbyshire programme they are living in fear.
Eighty seven households have been told to leave by the end of October, but only 19 have accepted accommodation.
Checks after the Grenfell Tower fire found parts of the Tangmere block could fall if there was a gas explosion.
Haringey Council said it was working with residents to find them new homes.
Like many of the blocks on the Broadwater Farm estate, the 116 flats in the six-storey Tangmere were built using a large panel system in the 1970s.
It is the same kind of construction as the Ronan Point block, which partially collapsed in east London 50 years ago, killing four people.
The incident led to a requirement for re-enforcement work on similar towers. But this was not completed everywhere, and structural checks on the blocks in this estate were only ordered last year.
The council told residents the risk of a collapse was low, but the threat was sufficiently high to require evacuation due to its construction method, and the fact that it had a gas supply.
It said a number of additional safety measures had been put in place to reduce the risk further, including replacing gas cookers with electric and employing 24-hour concierges to prevent people bringing gas bottles into the building.
Selina Dusie, a mother-of-four who has lived there since 1996, said: "I am scared. If I go to work and leave my children home I'm scared. I don't know what is going to happen.
"No-one is safe in this building. They [the council] told us they are going to move us but every day they say something different."
'People at risk'
Arnold Tarling, a surveyor and fire safety expert, said there had been been a number of reports since the 1980s outlining the risks in the building.
"I have raised concerns about the way the building is constructed," he said.
"I have raised concerns about the fact that they have gas in them when they shouldn't. I also have concerns about their fire doors, when they've got plastic fire doors defectively installed."
Patrick Crooks, 53, who lives on the fourth floor, is still angry he has been told his studio flat is unsafe.
"I have made this my home and all of a sudden they just want to kick us out and put us somewhere worse," he said.
"It is hard thinking about it, day by day. But what can I do? If they have to kick us out they have to kick us out."
Research group Tower Blocks UK said there were around 1,500 large panel system blocks across the UK that need to urgently be structurally investigated to ensure they were not in danger of progressive collapse.
The construction became popular in the 1960s as a way of building cheap housing. Other tower blocks in London, Leicester and Portsmouth have been evacuated following checks.
"We consider these blocks to be a potential risk. They need to be examined to ensure that they are not in danger of progressive collapse, and to ensure that each flat can contain a fire for one hour," said tower block safety campaigner Frances Clark.
'Inherent design flaws'
The council's preferred option is demolition, but it is still in consultation about whether to rebuild or to refurbish Tangmere. The estimated cost of repairs is £13m.
Lord Heseltine was environment secretary from 1979 to 1983, responsible for reviving run-down estates in high-poverty areas.
He wants central government to offer more support to local authorities to evacuate residents who are found to be living in unsafe buildings.
"I would like to see far more power from London switched to local people, local authorities and local communities," he said. "I think they have a greater sense of what's at stake, a greater involvement, and a greater knowledge of what needs to be done."
Haringey Council said it has made offers of alternative accommodation to 60 households, with 19 of these accepted and a large number of viewings arranged.
It has also made a series of commitments to residents, including a promise that they will be able to return to the estate once the block is strengthened or new homes built, and that they will not be worse off financially due to the move.
The council said: "Tangmere absolutely needs improvements. We know there have been a number of issues, which staff are constantly trying to address. But in terms of long-term solutions, the block has inherent design flaws which make many issues very difficult to resolve."
The Department for Housing, Communities and Local Government said: "Building owners are responsible for checking their properties, and we have given councils and housing associations advice on checking the structural safety of buildings which use large panel systems."