#ShareYourRejections - The pain of being turned down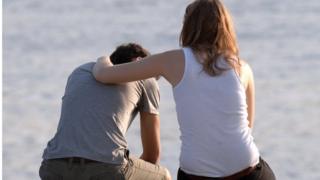 From getting a job to making declarations of love, being told we are not good enough is part of life.
It is these experiences of rejection that actors, writers and would-be romantic poets are sharing on social media using the hashtag #ShareYourRejections.
Although some instances are light-hearted, others are deeply shocking.
The writer and former children's laureate Malorie Blackman revealed that her novel, Noughts & Crosses, which deals with racial discrimination, was rejected for a literary award because "it would've shown more insight if a white author had written it".
Twitter users reacted with anger that the groundbreaking book had been rejected on such grounds.
When asked how she kept going despite receiving rejections Ms Blackman responded: "I needed to be an author. Not wanted but needed to be one, like I needed to breathe. So how could I give up?"
She later said she wanted to share her experience as an example of "getting knocked down and getting back up" not to "accuse or recriminate".
"I've let it go and moved on," she added.
Another writer, Courttia Newland, says he was turned down on the grounds that "black people don't eat spaghetti Bolognese"
Others had lighter stories about being rebuffed.
For actor Hannah Parkes, rejection is a big part of her career.
"90% of jobs you don't even hear back from, 9% are nos and the last 1% are an invitation to meet for auditions," she said.
The best piece of advice she says she has heard is: "You're allowed to feel bad but only for a short time".
"I give myself between an hour and a day, but then you have to move on," she says.
She also remembers advice given by Julie Walters at a talk: "Do your best and if it doesn't go your way you can't blame yourself."
Hannah welcomes the #ShareYourRejections hashtag.
"I left social media because it was so competitive, with everyone posting about their success, so I think the hashtag is a lovely idea," she says.
Writer and host of "How to Fail" podcast Elizabeth Day believes people tend to let their thoughts run away with them when reasoning why they have received a rejection.
"More often it is about the baggage the person rejecting you brings rather than you," she says.
"A recruiter may have to consider their budget before hiring you for a job, a potential partner has their own emotional baggage," she adds.
She also argues men and women deal with rejection in a different way.
Women, she says, are conditioned to think they have failed at countless things whereas men don't think they have failed at anything.
"That's not being arrogant, it's about being more self confident," she says.
'Sane and productive'
Karolina Sutton is senior agent at Curtis Brown, whose clients include Margaret Atwood and Malala Yousafzai.
She says writers need to learn to accept rejection in a way that allows them to stay "sane and productive".
"Acknowledge it, contain it, and move on," she says, adding "no one has ever benefitted from holding a grudge."
The literary agency's CEO, Jonny Geller, says writing is "a very lonely business" and being able to share experiences on social media is sometimes the best way to deal with rejection.
So, if you have recently been dumped or didn't get into the university you wanted, remember you are not alone: