The drug that makes people jump off buildings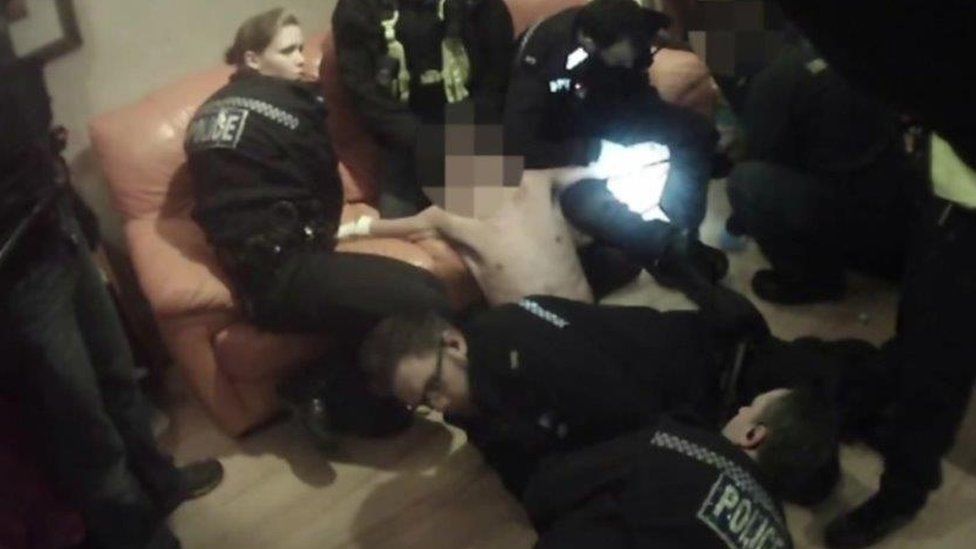 It has led people to jump off buildings, bite others and run into people's homes. Now police say it is only a matter of time before someone dies as the result of "monkey dust" - a synthetic drug rising in popularity in the West Midlands.
"At night time I won't go out, because that's when the people on drugs tend to come out," Molly Lawton, a 19-year-old chef from Stoke, tells the BBC's Victoria Derbyshire programme.
"You see someone who's on monkey dust swinging their arms around, shouting and screaming. [At night] that would frighten me to death."
Monkey dust is a class B drug that has been in circulation for several years.
But now emergency services within Stoke are worried it is becoming an epidemic.
The drug can stop users feeling pain, and causes them to experience hallucinations - making them highly unpredictable.
What sets it apart, however, is that its effects can last for days.
Police have been called to cases where individuals have run into traffic and jumped off buildings.
No-one so far has died. But there is concern it is just a matter of time.
Selling for £2 a bag, monkey dust is said to be used among many within the city's homeless community.
One man, who gave his name as Smithy, has been using it over the last year.
Aged 31, he has been sleeping rough for 10 years, and says it is one of the most potent drugs he has ever tried.
"I hate the fact that I like it. I hate it every time I have it, but I still have it," he says, wishing he was not addicted.
"It's everywhere. There's that many people on it."
Chief Supt Jeff Moore from Staffordshire Police says the force has dealt with 950 calls related to the drug in the past three months.
"Frequently we see the paranoia - instances of people jumping into traffic, jumping onto bridges and high buildings, running into people's houses," he says.
"From a drug perspective this is the worst we've seen. It's a consequence of not just taking the drug, but people risking others' safety too."
He said it was difficult for officers to deal with, as those on the drug are so unpredictable, and called for a wider look into the social and public health issues that contribute to its use.
"It's not just about a group of people who are homeless and in town," he added, saying people of different backgrounds and ages were using it too."
Darren Murinas, a reformed drug-dealer working with the group Expert Citizens, says he previously lived with three people using the drug.
"These guys had been using crack and heroin, but no longer did because of the price," he says.
On one occasion, he explains, one housemate "thought there was someone under the floorboards after him, and wouldn't sleep for days.
"I've seen it induce a psychosis - people hiding weapons because they were scared," he adds.
Mr Murinas says he knows one person who is "constantly in hospital" having been addicted to the drug, and another with serious brain trauma.
"We need to start recording this issue so we can get the data," he says.
"And we need to look at it with a mental health lens, not just with police."
The Home Office said its drug strategy "sets out a balanced approach which brings together police, health, community and global partners to tackle the illicit drug trade, protect the most vulnerable and help those with a drug dependency to recover and turn their lives around".
Among those in Stoke city centre, many have seen the visible effects of the drug.
One security guard, Ari, says it is causing problems for businesses in the area.
Charlie, an 18-year-old student who has tried the drug a few times and whose surname we are not using, says he would never take it again.
"I felt weird," he says, remembering its effects. "I felt like when I first took it I was walking like a zombie. It's not clever."
He says there have been efforts to educate students about the dangers of the drug at his college, as the city becomes more aware of its effects.
For Molly, the worry is that the situation will become worse before it can get better.
"There's a lot of it, because the drug dealers are selling it for just £2 a bag," she says.
"With it being so cheap, there's going to be a lot more [taking it] around Stoke too."
Watch the BBC's Victoria Derbyshire programme on weekdays between 09:00 and 11:00 BST on BBC Two and the BBC News Channel in the UK and on iPlayer afterwards.