Pavement trips cost councils at least £2.1m in compensation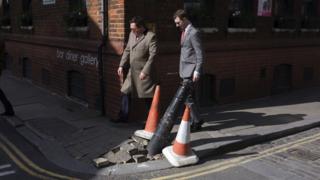 Pedestrians were awarded at least £2.1m in compensation after tripping on pavements in the past year, research has revealed.
The AA found that 10,572 people made claims against local councils, but only 859 - just 8% - were successful.
While some councils paid compensation on more than 75% of claims, others made no payouts despite hundreds of claims.
Councils blamed "decades of underfunding by successive governments" for their damaged pavements.
The AA received responses to Freedom of Information Act requests from 365 out of 421 UK local authorities.
They revealed that there had been received 10,572 compensation claims for accidents on the pavement in the 12 months before May 2018.
Hillingdon Council in west London had the highest number of payouts, with 115 of 148 claimants (78%) receiving compensation and the council facing a bill of £346,596.
But Liverpool City Council managed to decline all of its 448 claims, and did not make any payouts.
Only one place reported no claims at all: the Shetland Islands.
'Run the gauntlet'
A separate AA survey of 16,000 motorists found that 73% were concerned about uneven pavements and nearly two-thirds have come across paths encroached by overgrown trees and hedges.
AA president Edmund King said being a pedestrian can be "like negotiating a minefield", undermining the government's efforts to encourage people to walk instead of using the car.
"The state of the pavements means walkers are expected to run the gauntlet of pavement hazards that are just as dangerous as the potholes that can injure or kill cyclists and damage cars," he said.
A spokesman for the Local Government Association - which represents councils in England and Wales - said councils did a "huge amount" to maintain pavements with limited resources.
"Councils know that the condition of pavements is a key priority for residents and want to make sure they are safe to use by all pedestrians," he said.
"Any deterioration of our roads and pavements is down to decades of underfunding from successive governments and recent severe winters."