Man bun hairstyle 'gets British Airways worker the sack'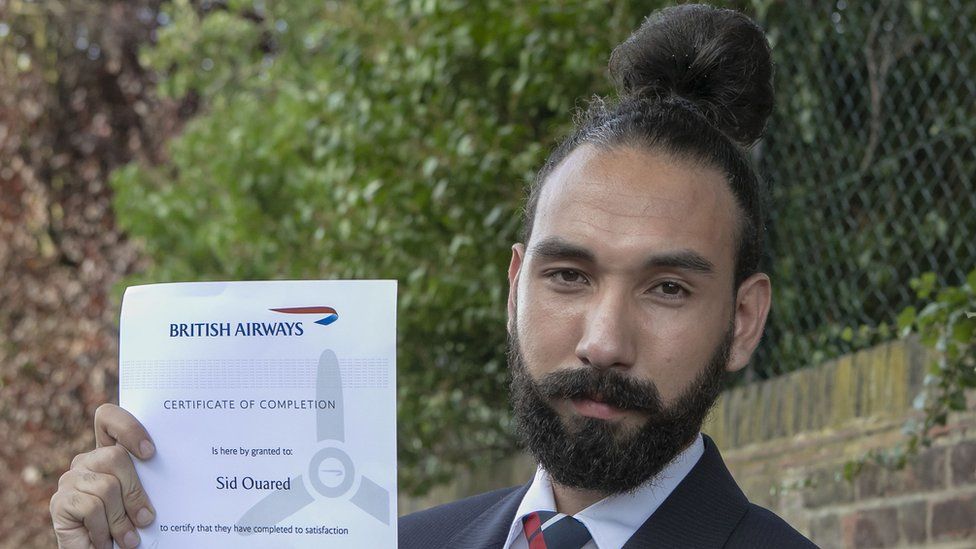 A British Airways check-in worker has said the company's dress code discriminated against him after he was sacked for his man bun hairstyle.
Londoner Sid Ouared claims he was fired from his job at Heathrow because he refused to change his look.
He said the style was accepted for women but he was ordered to cut it, wear a turban or style his hair in dreadlocks.
The company said it did not comment on individual employment matters.
Mr Ouared, who is 26, said he was told he was being dismissed after only a couple of weeks in the job because his hair did not conform to the uniform standards.
He said: "It's ridiculous in 2018. There are more and more men that have the same hairstyle as me. There's 100% sexism going on."
The "man bun" hairstyle has been worn by celebrities such as footballer Gareth Bale and singer Harry Styles.
"BA are stuck in the 1970s, their policy is very much from the 1970s, it's not conforming with our times," Mr Ouared said.
The airline issues guidelines for staff wearing uniforms, which says men's hair must not fall over the face or touch the shirt collar. Ponytails are only acceptable for men with dreadlocks, it says.
Women have their own requirements regarding hairstyles, including a ban on close-shaven hair, along with rules on hosiery, make-up and skirt length.
During the interview process, Mr Ouared said no one mentioned his hair, although managers did ask him about tattoos and piercings, which he does not have.
But early in his training a line manager told him he would have to cut his hair.
He says a more senior manager described his hair as "girls' hair" and said if he did not wear it shorter, he would have to wear a turban or style it in dreadlocks.
"I didn't want to cut my hair because I've been employed by several companies and I have never ever been told that my hair has been an issue," Mr Ouared said.
He said that a turban or dreadlocks were religious dress for Sikhs and Rastafarians, which he did not regard as appropriate for him. "I don't even know how to put a turban on," he said.
The bun was a style frequently worn by female staff, according to Mr Ouared.
He said: "I was made to feel like a black sheep, I felt discriminated against."
Beverley Sunderland, managing director of Crossland Employment Solicitors, said that employers were allowed to require a "conventional standard of appearance" which might be different for men and women.
That decision came in a 1996 Court of Appeal case where a man with long hair had complained that his employer, Safeway, required him to cut it.
But she said a case today would depend on whether men with long hair tied up in a bun were now considered sufficiently "conventional".
Ms Sunderland said: "What might not have been a conventional appearance at one stage might be now. I wasn't allowed to wear trousers at work 30 years ago. All that has changed."
Other men have taken a stand against restrictive rules on office fashion in other ways.
He returned in a pink and black dress, prompting the company to relax its attitude to shorts.