Reality Check: Are sports stars getting older?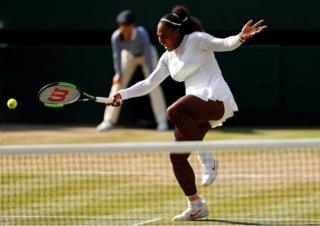 It's long been thought that youth is key to sporting success. But is this changing?
Sports stars seem to be getting older, don't they?
In tennis, Roger Federer and Serena Williams (37 and 36 respectively) are regularly competing to win the top tournaments.
In golf, 42-year-old Tiger Woods came quite close to taking the recent Open Championship. And, in cycling, Geraint Thomas, has won his first Tour de France at the age of 32 - 11 years after he first entered the race.
So, are top sportspeople more mature than once was the case?
For tennis, the answer is a definite yes.
Researchers at Spain's Camilo José Cela University looked at the mean average ages of the top 100 male and female tennis players in 1984 and 2013.
For men, it rose from 24.6 years to 27.6 years. For women, it increased from 23.5 years to 24.8 years.
With the likes of Federer and Williams, not to mention fellow thirty-somethings Rafael Nadal and Novak Djokovic, continuing to do well, there is little sign of tennis returning to being a very young man's and woman's game any time soon.
Golf offers a more mixed picture, at least among leading men. Between 1987 and 1996, the average age of the top 100 players - as defined by Golf magazine based on performance across the season - rose from 32.3 years to 36.5 years.
That remained fairly steady until, in 2004, there began what the magazine called a "youthquake". By last year, the average age of a top-100 player was 33 years - still a little older than it had been back in the early 1980s.
But the top six - John Rahm, Jordan Spieth, Justin Thomas, Hideki Matsuyama, Rory McIlroy and Rickie Fowler - were all in their 20s.
Woods, recovered from spinal fusion surgery, trying to play his way back into their company, and perhaps dominate the sport again, makes for compulsive viewing.
In women's golf, being young definitely appears to be an asset. The LPGA, which runs the sport in the US, said the average age of tournament winners in 2016 was just 20.
But Sian Allen, a physiologist who researched ageing in athletes for High Performance Sport New Zealand, wonders if this might change over the next few years.
"I would question whether this is their natural age of peak performance in this sport, or whether or not it is a function of this being a very young sport, with not the greatest strength in depth currently," she says.
The recent win by Geraint Thomas in the Tour de France happened 11 years after he came 140th out of 141st on his debut.
The romance of the Welshman's long real and figurative journey has caught the imagination, but is he, so to speak, a statistical outrider?
Not really. His predecessor, Chris Froome, won his first Tour aged 28 and his fourth, and most recent, aged 32.
Sir Bradley Wiggins, the first UK rider to win the race, did so in 2012, like Thomas, aged 32.
The Australian Cadel Evans, whose one victory came in 2011, was 34 at the time.
Prior to this year, the average age of a Tour de France winner, since its inception, was 28.5 years, according to Cycling magazine.
Saving energy
Dr Allen says nous can greatly help create road cycling champions even after their physical peak, which usually occurs in the mid-to-late 20s.
"Because of the physics and energy costs involved in road cycling - essentially, it's much more efficient to minimise drag than to create your own propulsion - in this sport in particular, you can save a lot of energy by making smart decisions on when to draft [close behind another rider], when to attack et cetera," she says.
A study of Olympic athletes in 2016 found that, among men, leading (top 20) road cyclists had the fifth highest mean average age of any sport - 29.5 years - surpassed by only sailors, shooters, and beach volleyball and handball players.
Among women, the average age was 29.3 years, beaten by only cross-country cyclists and triathletes.
Dr Allen says that in sports in which "winning depends primarily on physical capacities", such as the flexibility required in gymnastics and diving, top performers tend to peak early.
But for those in which other capacities play a strong part - such as technique in golf and tactics in road cycling - there are typically "wider ranges of age of peak performance".
And what of football? The absolute peak of the men's sport - in terms of individual acclaim - is winning the Ballon d'Or.
Between 1956 and 2016, the average age of recipients was 26. Cristiano Ronaldo and Lionel Messi have won it the past 10 times in a row between them.
If the pair, both now in their 30s, continue to shut everyone else out, the average age of winners has to increase.
But will either of them match England's Sir Stanley Matthews, who won the first Ballon d'Or (which was then awarded to the best European playing in Europe) in 1956, aged 41?
The likes of Brazil's Neymar, who's 26, and France's teenage World Cup star Kylian Mbappé will be desperate to usurp Messi and Ronaldo.
When this will happen is anyone's guess.