Funeral ads banned by TfL over 'widespread offence'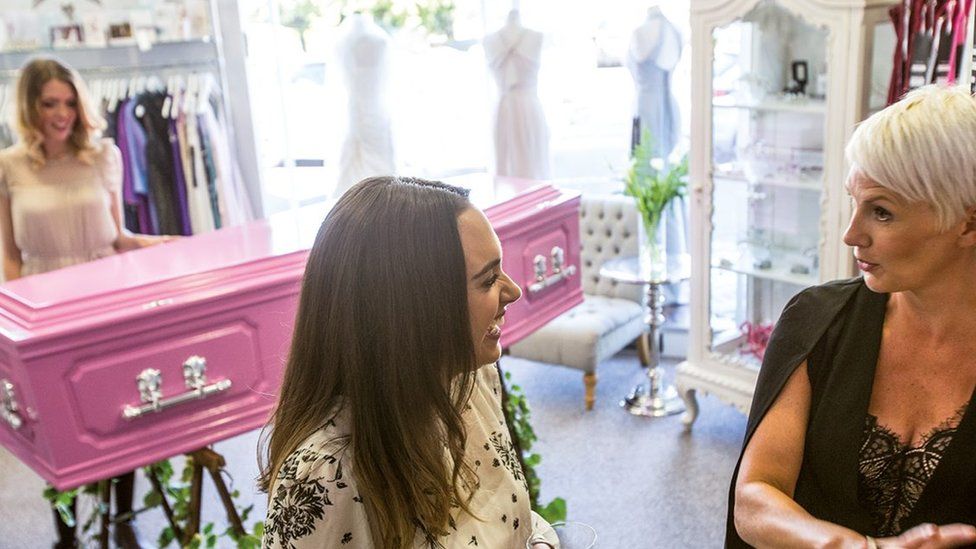 The company behind a set of funeral comparison adverts banned by Transport for London has said it was trying to break the "taboo" around death.
Proposed adverts from Beyond showed beachgoers running with coffins rather than surfboards - with a pun on "roasting temperatures" and cremations.
Its co-founder Ian Strang said the campaign was designed to be "edgy", but was not cruel or mocking.
TfL said it had a "serious responsibility" over advertising.
It told the BBC's Victoria Derbyshire programme its advertising partner had referred the adverts to the Committee of Advertising Practice, who advised that the "original posters proposed by Beyond were likely to cause serious and widespread offence.
"Our partner then worked with the brand to come up with a more acceptable campaign, which is now running on our network," it said.
Mr Strang told the Victoria Derbyshire programme there was "a long history of edgy campaigns being used to cut through difficult issues.
"It's the same with death - there is a taboo around it."
He said the current lack of conversation on the issue meant companies were able to "take advantage of [the bereaved] when we're in a weakened state" through their prices.
Mr Strang also questioned Transport for London's decision to ban the proposed advertisements, saying it was not the "arbiter of morality".
He continued: "They've got [adverts] on payday loans, gambling... is a little bit of humour around death worse than all those products?"
'Concerned for the bereaved'
But funeral director Louise Winter said she was concerned "for the bereaved families I work with on a daily basis.
"If they were to see this on the Tube they might be quite upset by it," she added.
She accepted the adverts were entertaining "providing you're not bereaved", but said the campaign had not been done in a "sensitive" or "cautious" manner.
"As a society we need a way to talk about death in a sensitive way that's emotionally intelligent, and I'm not sure these ads are doing that."