PM Theresa May begins her walking holiday in Italy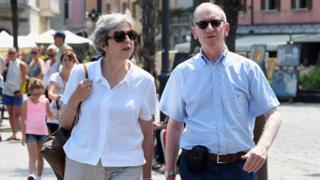 Prime Minister Theresa May has begun a week-long walking holiday in Italy.
The Conservative leader is fresh from her key Brexit proposal being rejected by the EU on Thursday.
She will return to the UK for a week's work in her constituency and in Downing Street before attending the centenary commemoration of the World War One battle of Amiens and then resuming her break in Switzerland.
Mrs May's trip is a repeat of her holiday itinerary from last year.
The Parliamentary recess plans of her Conservative colleagues have also been split on Europe - Brexiteers have largely chosen to holiday in the UK or US, while Remainers choose countries in the EU.
Jacob Rees-Mogg, chairman of the Tories' pro-Brexit European Research Group, is holidaying in the US, as is International Trade Secretary Liam Fox, after a detour in Japan.
Environment Secretary Michael Gove, who led the Vote Leave campaign, will be taking a break in Scotland.
The office of staunch Remainer Anna Soubry, meanwhile, said she would be taking a holiday in Europe.
Mrs May has long favoured visiting Switzerland - not in the EU - and the Alps because of her enthusiasm for hiking.
She has previously praised the area for its views and clear air.