Blue badge parking permits to cover 'hidden disabilities' in England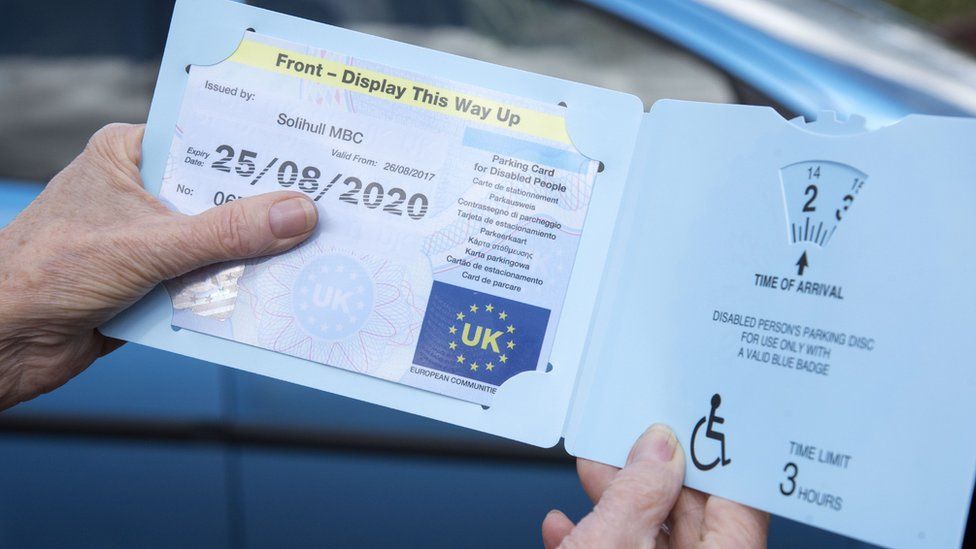 Blue badge parking permits are to be made available for people in England with "hidden disabilities" such as autism or mental health problems.
The Department for Transport said people with non-physical disabilities would have an equal right to free parking from next year.
Currently the rules do not explicitly exclude hidden disabilities, but councils' interpretations can vary.
Similar changes have come into effect in Scotland and Wales.
When the changes to the blue badge scheme in England are introduced, they will extend eligibility to:
people who cannot make a journey without "a risk of serious harm to their health and safety" or that of others, such as young children with autism
people for whom travel causes "very considerable psychological distress"
and those with considerable difficulty walking, meaning "both the physical act and experience of walking"
About 2.4 million disabled people in England currently have a blue badge.
The scheme, first introduced in 1970 to make access easier for disabled people, costs £10.
It allow holders to park for free in pay-and-display spaces across the UK and for up to three hours on yellow lines.
The blue badge concessions do not apply to privately-run car parks. They also can not be used in central London, where residents need to apply for a special permit, although they do provide an exemption from the congestion charge.
Transport Minister Jesse Norman said: "Blue badges are a lifeline for disabled people, giving them the freedom and confidence to get to work and visit friends independently."
The change follows a consultation launched in January which saw 6,000 responses.
Three in four disabled people say they would go out less often without the parking permit, the DfT said.
Jane Harris, director of external affairs at the National Autistic Society, said the change would "make a massive difference to the lives of many of the 600,000 autistic people in England, and their families".
Many autistic people experience major challenges in travelling, making detailed preparations and suffering "overwhelming anxiety" about things going wrong, she said.
She said that some can be unaware of the dangers of the road while others can feel panic in busy or loud environments.
Siobhan Fairclough, from Edgware in north London, said she had been refused a blue badge for her daughter Jenny, 21, who is autistic with learning disabilities and rheumatoid arthritis. She welcomed the change.
"We wouldn't have to worry," she said. "When we're walking and there are too many people around, she gets overwhelmed and it's likely to cause a meltdown."
People with other disabilities and their carers also said easier parking would have a significant impact on their lives.
Jenette Kingsbury in south Norfolk said her husband, who has 50% vision loss, auditory processing issues and cancer of the bone marrow, had been rejected for a blue badge because he is physically mobile.
But she said his disabilities put him at risk in traffic and she hoped he would benefit from the rule change. "Just small things make big differences when every day poses a challenge," she said.
Scotland and Wales have already changed their eligibility criteria for the Blue badge scheme to include some mental impairments, where people cannot follow the route of a journey without assistance, but the rules are yet to be altered in Northern Ireland.