HQ Trivia's Sharon Carpenter says she faced 'blatant racism'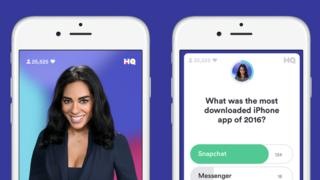 Sharon Carpenter was "painfully shy" at school, too afraid to raise her hand in class even when she knew the answers.
But now the Watford schoolgirl is the one asking the questions - often to upwards of 750,000 people at a time.
The journalist and presenter - affectionately given the nickname "Shazza" by fans - is the face of HQ Trivia in the UK, a free and popular quiz app where players compete to win a share of prize money.
But growing up in Watford and then Guildford in the 1980s, Carpenter - who is mixed-race, describing herself as half white, half Indian - says her confidence was affected by "blatant racism".
"I used to be called a lot of racist names, from the age of four to 14," she says.
"[Racism] was part of my life, it was something I just accepted and thought that's how it's going to be.
"I never addressed it, never spoke about it or saying that's wrong. I didn't really talk to my family about it.
"There was a lot of shame involved."
Her confidence grew as she was introduced to hip-hop music, aged 12, by her older brother - now a DJ called Jazz T - and she grew to love artists such as Snoop Dogg, Dr Dre, Wu Tang-Clan, LL Cool J, Lil' Kim and Tupac.
"It was seeing all these other people of colour who were all self-confident, self-assured through their music," says Carpenter, 36, speaking from New York where she now lives.
"And it became music which was really cool.
"That had a really great impact on me, and had an impact on people who I was around and I met people of different ethnicities who looked a little bit more like me. That helped as well."
She said later, as a teenager, she developed "quite a bit more confidence".
"One time I was in Guildford town centre and two older girls started following me and making comments like 'go back to your own country' and 'go back to Africa'.
"That was probably the first time I turned around and confronted things head on.
"I explained to them that I was just as much a Brit as they were, that they had anger issues and if they're so big and bold they should tell the same thing to my brother and his friends - who were all strapping 6ft lads - rather than following little old me around.
"That got rid of them soon enough."
Carpenter says there is "something quite nerve-wracking" about the idea of presenting HQ Trivia - the quiz app which live-streams short quiz shows throughout the week to millions of viewers.
"You're putting your personality out there for 12-15 minutes. That can be intimidating.
"I remember the first time I hosted there were about 12,000 live players in the game. I thought that was pretty staggering."
The app's popularity grew fast, and global games can attract more than a million players. It has a team of writers, but presenters ad-lib, come up with jokes and do "shout-outs" to players.
But Carpenter says she "fell into" her career in journalism and media, after moving to New York aged 18 for university to pursue her dream of running her own record label.
She recalls when she was just starting out in television, and was told by a "big client executive" that her English accent would be a "distraction" to any career on-screen.
"Coming from someone I respected so much, that hit me hard. He was dashing my hopes and it had me questioning myself."
But it was after watching Sting perform his hit Englishman in New York that she resolved not to give up.
"One of the lines is 'be yourself no matter what they say'. That was the first time I really heard those lyrics up close and personal.
"And I thought, you know what, I'm holding on to my accent."
Some time later, while working for Black Entertainment Television as a presenter, she was vindicated - by none other than rap royalty Jay Z, who was being interviewed by the channel.
"I was backstage, just waiting for a friend.
"[Jay Z] does his first interview, and he walks all the way across the room and comes up to me - I'm sitting in the corner - and he says, 'you don't know how much I love your accent'.
"He got his assistant over and said, 'tell her what I said about her accent'.
"That was an amazing moment where it came full circle."
She has been described as a "cult figure" by NME and the Huffington Post - something she says she finds "extremely flattering".
"The way I look at it, I'm doing my job, I'm having an exceptionally fun time doing it."
She says there is still "much more work to be done" to end discrimination.
"Although we've come a long way when it comes to race relations, we've also taken a few steps back lately."
She is far from being the reserved schoolgirl she once was, although she says her shyness still comes out occasionally, "for example in some social settings where I'm more introverted or quieter".
"I feel quite proud of myself to be honest," she says, "when I look back on how far I've come.
"Although the bullying was tough to deal with, there's definitely a silver lining here.
"It helped build up my strength, resilience and determination - and without those qualities I wouldn't be where I am today."
---
Have you got a "savage question" you would like to ask Sharon Carpenter about her life or career? Let us know and she will answer a selection.
Use this form to ask your question: