Storms and floods cause transport disruption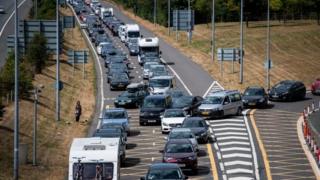 Storms and flooding have disrupted road travel and caused flights to be cancelled as the UK heatwave came to an end.
In Northern Ireland, up to 88.2mm of rainfall was recorded in a few hours. Homes were flooded in County Antrim and traffic brought to a standstill.
Travellers have faced long delays at Eurotunnel, after air-conditioning failed on trains, and there were two-hour waits for ferries in Dover.
Storms in Europe affected airlines.
Flights from Edinburgh, Birmingham, Luton and Stansted have been delayed and some cancelled after temporary restrictions were put in place during thunderstorms on Friday.
Yellow warnings are in place for south-west Scotland and also Northern Ireland, where heavy rain and thunderstorms have led to flooding.
On one of its busiest weeks of the year, cross-Channel operator Eurotunnel said it was taking time to bring back carriages after they were removed from service during hot weather on Friday because of air-conditioning issues.
The company says the situation had improved and it had restored a full service of four departures per hour from Folkestone.
It said delays were likely to continue for the rest of the day but it would be running additional trains overnight to clear waiting times.
Eurotunnel said the problems were due to "unprecedented" weather conditions and not a lack of investment in the stock.
'How to ruin holiday'
Passengers were advised to take drinking water and find toilet facilities before arriving at the Folkestone terminal.
Trying to reach the terminal on Saturday morning Sarah Dodwell said: "Queuing on the M20 for Eurotunnel - how to ruin a one-week big family holiday.
"Huge delays to check-in and departure, followed by a six-hour drive to come, with young children, means nine very tired people."
She said traffic on the M20 was very slow-moving and some cars were driving down the hard shoulder to beat the queues.
Rebecca Kelly from Lewes said she had left at 07:00 BST for Folkestone - a journey that should have been one-and-a-half hours - however by 11:00 she had still not yet reached the terminal building car park.
She described the situation as "annoying" but praised the check-in staff for their helpfulness.
However Dom Hughes, who was delayed by three hours, said: "I can accept delays but the total lack of communication is adding to the stress... Not a soul around to ask."
BBC environment correspondent Claire Marshall was caught up in the delays as she and her family headed on their summer holidays.
She described the mood among would-be travellers as "stoic" with many accepting they were going to be stuck for hours.
Airport delays
National Air Traffic Services (Nats) put temporary restrictions in place during the thundery weather on Friday, affecting flights from Edinburgh, Birmingham, Luton and Stansted.
The UK air traffic control service said: "Thunderstorms are particularly disruptive as they effectively block large swathes of airspace because aircraft cannot fly through them."
On Friday 30 flights were cancelled at Stansted airport with delays and further cancellations continuing into Saturday.
A Stansted Airport spokesman said long queues shown in social media posts were caused by passengers who stayed overnight in the airport trying to re-book cancelled flights with airlines.
Ryanair was forced to cancel a number of flights from the airport on Saturday and apologised for the "weather and ATC [air traffic control] disruptions which are entirely beyond our control".
The company said affected passengers would be offered a refund or a place on the next available flight.
Joe Allen was trying to get to Berlin from Stansted said: "It's midnight, Ryanair have just cancelled my flight after waiting roughly six hours.
"The queue is just unending. It's just incredible how unaccountable they are, there's no one here to deal with it."
Gatwick and Luton airports tweeted that they are experiencing delays and possible cancellations because of adverse weather across Europe, and Heathrow said it had minor delays.
The weather has had an impact across the country:
In Clacton, Essex the body of a teenage boy who went missing after going into the sea has been found.
Trains from Edinburgh to London Kings Cross were cancelled after a lightning strike damaged signalling equipment in the North East
Several people in County Antrim, Northern Ireland, were forced to leave their homes due to floods
Sir Tom Jones has apologised to fans after having to cancel a concert at York Racecourse due to the thunder and lightning storms
Friday had been predicted to break the record for the hottest July day according to earlier forecasts, but the highest temperature reached was 34.7C (94.5F) at Tibenham Airfield, Norfolk.
The week's highest temperature was recorded on Thursday, with Faversham, Kent, hitting 35.5C (96F).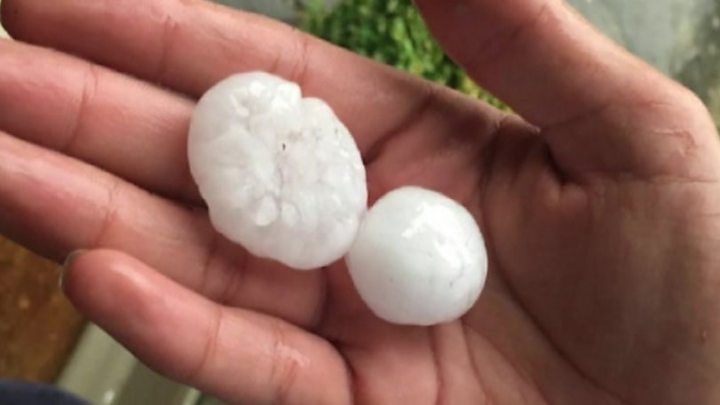 UK temperature records
2018 record - 35.3C
1976 heatwave record - 35.9C
All-time July record - 36.7C
UK all-time record - 38.5C