Probe over donations to terror-linked group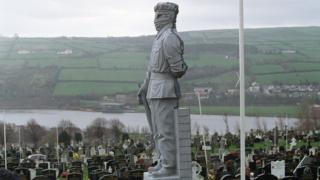 The Charity Commission is investigating claims the Joseph Rowntree Charitable Trust gave £275,000 to a group linked to a banned terrorist organisation in Northern Ireland.
The Times says the trust gave the funds to Teach Na Failte, which supports ex-prisoners but has links to the Irish National Liberation Army (INLA).
The watchdog said the charity needs to "explain and justify" its decision.
The trust says it has "no relationship with any proscribed organisations".
Critics argue that Teach na Failte is too closely linked with the INLA, a republican paramilitary group believed to have been responsible for more than 120 murders from its formation in 1975 until its ceasefire in 1998.
Michelle Russell, director of investigations and enforcement at the Charity Commission, said: "Our guidance makes clear that charities need to take steps to carry out appropriate due diligence on organisations applying for grants, must ensure grants are only for activities and outcomes that further the charity's purposes and decisions made are in charity's best interests.
"Charities should be able to explain and justify their funding decisions. We have asked the charity to do this.
"If we need to take action in either case we will not hesitate to do so."
'Key player'
The Joseph Rowntree Trust said it has worked to end violence in Northern Ireland for more than 40 years and funds groups "transitioning from violence in loyalist and republican communities".
It said Teach na Failte was awarded a grant of £149,915 in 2014, and a further £125,000 in March 2017.
"Teach na Failte is recognised by HMRC as a charitable body," the trust said.
"It provides a range of peace-building community initiatives including support for INLA ex-prisoners and their families.
"Teach na Failte has been a key player in the INLA ceasefire and decommissioning process."
April raid
Earlier this year, police carried out a series of searches across Northern Ireland, specifically targeting the INLA.
The operation targeted extortion, paramilitary-style assaults and prostitution, police said.
The headquarters of the IRSP (Irish Republican Socialist Party), which is aligned to the INLA, on the Falls Road in west Belfast and Teach na Failte's offices were searched.
A senior party member dismissed this as "a publicity stunt".
More than eight years ago, the INLA said it was ending its campaign of violence and would pursue its objectives with exclusively peaceful means.
But the police have said the organisation remains structurally intact and now operates as an organised crime gang.
Formed in 1975, many of the INLA's early recruits were thought to have come from the Official IRA which had called a ceasefire three years earlier.
It came to world prominence in 1979 with the murder of Conservative Northern Ireland spokesman Airey Neave. A bomb was left under his car in the House of Commons car park.