Bright colours at funerals 'unfair on children'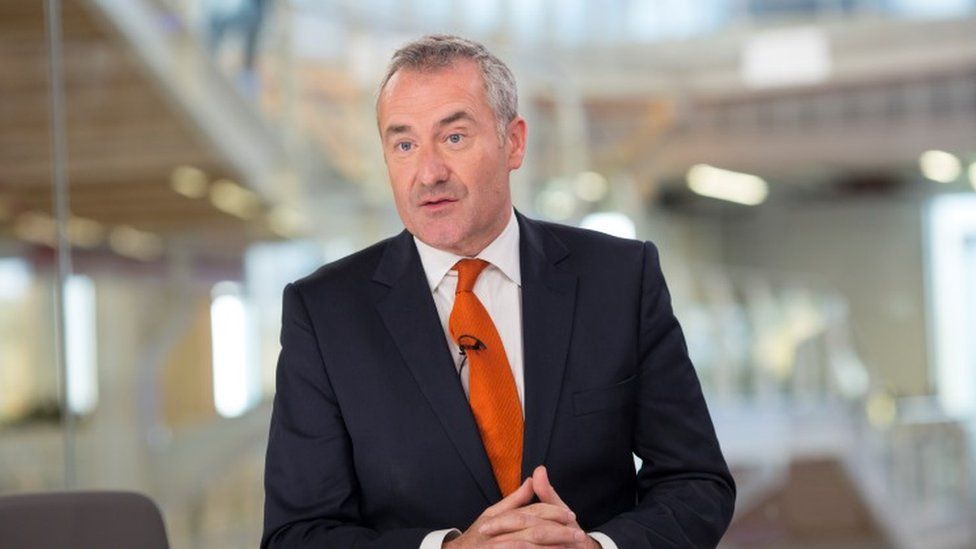 Sky News presenter Colin Brazier has asked people not to wear bright colours at his wife's funeral, telling mourners to "leave their Hawaiian shirts at home" and wear black.
Writing a piece in the Spectator, he said he was "ill at ease" with some of the modern conventions surrounding funerals.
The father of six said making a funeral a colourful celebration was "unfair on children".
His wife, Jo, died earlier this month.
In his article, published on Saturday, Mr Brazier said he does not plan to deliver a eulogy at his wife's funeral and has "politely asked" friends and former colleagues to wear "black please, if you don't mind".
He wrote: "It's unfair on children to insist that a funeral should mean rejoicing in a life now passed.
"Maybe grown-ups can handle the cognitive dissonance required in 'celebrating' a life rather than, you know, being all morbid. But I seriously doubt children can."
He added that wearing black gives people a "licence" to get upset, and to "treat a funeral like Ascot's Ladies Day" not only trivialises death but moves the spotlight of consolation away from the family.
He said there is "nothing funky about turning death into a fashion parade and a free-for-all of self-realisation", adding it can "inhibit the necessary catharsis of the grieving process".
"The old stuff - the black and the solemn - works because it distils the wisdom of ages," said Mr Brazier, who is a practising Catholic.
Jo Brazier, Mr Brazier's wife of 20 years, died from breast cancer aged 55 on 6 July.
He had previously asked for prayers for her on Twitter and also thanked a group of singers who had visited her hospice.
Her funeral is to be held next month.
People sent their condolences to the Sky News journalist on social media, with many thanking him for his "moving" article and offering "another perspective".
Among those polled, 45% think wearing other colours are fine as long as they are dark and sombre, while 29% believe any colour is appropriate to wear for a funeral.
Professor Douglas Davies, director of Durham University's Centre for Death and Life Studies, said it is not known whether wearing black rather than colourful clothing can help the grieving process.
But he said having a "cultural agreement" on the emotion at an event would be expected to help mourners.
"There would be a sense of togetherness, the togetherness in the shared grief symbolised in the uniformity of dressing," he said.
Professor Davies, one of the leading experts in the history, theology and sociology of death, said the trend towards less-traditional funeral dress has emerged in the last 15 years.
He said it has developed alongside the motif of a funeral as a "celebration of life", which he suggests is associated with the drop in people believing in life after death.
Funerals are now less a discussion of heaven and more of a retrospective look at the person's identity, he explained.
Why do people wear black to funerals?
The tradition of wearing black to mourn became familiar by the mid-19th century.
When Queen Victoria wore black for the rest of her life after the death of Prince Albert, she "set the royal seal on black", said Professor Davies.
Nowadays, according to Debrett's, black is still the usual colour of mourning, but dark colours like grey or navy blue are acceptable.
Debretts also suggests that dressing modestly and smartly is more important than unbroken black.