'It was right to report rape even though my attacker was cleared'
By Danny Shaw
Home affairs correspondent, BBC News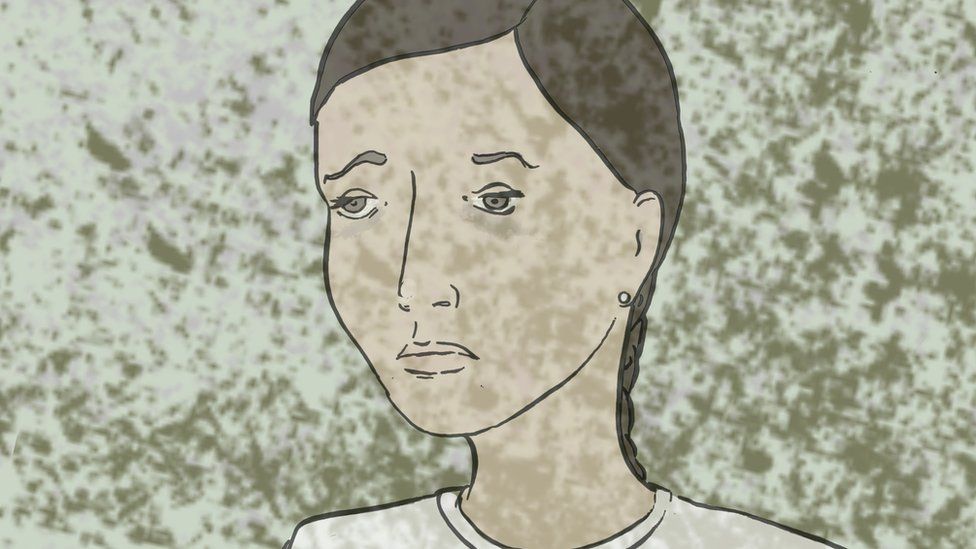 When Sarah found the courage to tell police she had been raped by a man she knew, she cooperated with the authorities and gave evidence in court - only to see him cleared by a jury. He is innocent in the eyes of the law, but she maintains he attacked her. So where does this leave her now?
Sarah - not her real name - describes what it was like to try to seek justice and, despite being disappointed by the outcome, why she feels it was the right thing to do.
'No-one tells you what to expect'
"I was having panic attacks every single day. I couldn't open doors without being worried that he was going to be there.
"I completely shut myself off. I wasn't eating, self-harming and I thought, enough is enough. I thought I have to tell someone because I don't know what I might do, so I needed to get it off my chest."
Sarah was a young teenager when she was attacked. It took her some months before she felt she could tell the police.
"I didn't know what to expect from reporting it because no-one ever tells you. They say: 'Oh, you should report as soon as it happened'.
"I hadn't done that which made me even more worried, but no-one actually tells you how traumatic the process in itself is. I understand why that is, the way it is, but it causes so much trauma.
"You have to re-live everything all over again and go through all that stress times 10, times-a-million.
"You are in just a small room, sitting on a chair facing a police officer who you don't know and a red light is just staring at you. I had to take a lot of pauses and I was stumbling a lot.
"You have to remember everything, you have to remember what position you were in, if you were bleeding, things like that, which to tell someone you've never met before is horrible.
"And I can't even describe how embarrassing it is. You can't remember everything fluently, all at once... No-one realises what an impact the trauma has on you."
Rape victims are being encouraged to have confidence in the police and justice system, and report their allegations.
But there is no guarantee the person they have accused will be convicted. In England and Wales, in 2016-17, 42% of rape prosecutions were unsuccessful.
'There's no right way of telling your story'
Sarah says she feels her lawyers in the case did the best they could, but she was still let down.
"A lot of witnesses were never called, and he had a great defence. He got character witnesses.
"I was there for one day and that was it - and no-one prepared me for that day, either. Yes, I got to look around the courts: I was told, 'you sit here, the judge sits there, the jury's here'. But it set me back months afterwards because no one prepared me for what it was going to be like and what questions I was going to be asked.
"It's expected from the get-go for you to be able to speak so fluently, and so coherently, and in court you're seen to be making it up if it's staggered, but then if it's really fluent then it's prepared.
"There's no right way of telling your story. It makes you feel like you're lying, when you know you're not.
"I left court knowing that it was going to end up being a 'not guilty' verdict because no one had asked me the questions that I know would've helped put him behind bars."
Sarah says after legal proceedings began she was subjected to a lot of negative comments online.
"I think, especially when a minor is involved you cannot allow the public to comment.
"Reading online, things like 'I hope she actually does get raped' and things like that is awful. To be told to kill yourself by people who don't know the whole story.
"That was the one thing I had to keep in mind - that they don't know exactly what happened."
Sarah says she still vividly remembers the call to tell her that her rapist had been found not guilty.
"I just couldn't speak. I can't explain how soul-crushing it is, to know you've tried everything.
"Just the fact that he's free to walk out again and do this again and nothing is there to stop him.
"We met with the police a few days later to talk it through and I said, 'Well, is there any sort of protection? I'm really worried, I don't trust him'.
"I was told 'no, unfortunately, we can't do anything unless he does something'. But that's not reassuring to someone who's underage, considering I still couldn't sleep, couldn't do anything without thinking he was there - and even now I still check every time I walk down the street - I think 'that's him'."
For months after the verdict Sarah says she blamed herself.
"I was in a really bad place and I completely regretted it... but I don't know what I would have done by keeping that secret.
"At least I notified them - I notified the police of his actions and I know if he does anything again at least they know that it's not out of the blue and maybe someone else will have a better chance of convicting him.
"I know what happened, and he knows what happened - he knows what happened for sure. So it played on my conscience for not reporting… until I reported it. Surely it's got to play on his now."
What support is there for victims?
Rape Crisis runs a national free phone helpline on 0808 802 9999, which is open every day of the year. Alternatively, people affected by sexual violence can call the free, 24-hour National Domestic Violence Helpline on 0808 2000 247.
Numerous voluntary organisations such as Women's Aid, Victim Support, The Survivors Trust or Survivors UK (for male victims of sexual assault) offer support weeks, months and years after the crime took place.
Police forces across the country also offer victim support from the point of reporting a crime through to preparing for a court case.
Baroness Newlove, the victims' commissioner has called for a Victims' Law to be introduced to ensure support services are available to those affected by a crime.
Illustrations by Emma Russell