Sir Cliff Richard: Reaction to the High Court ruling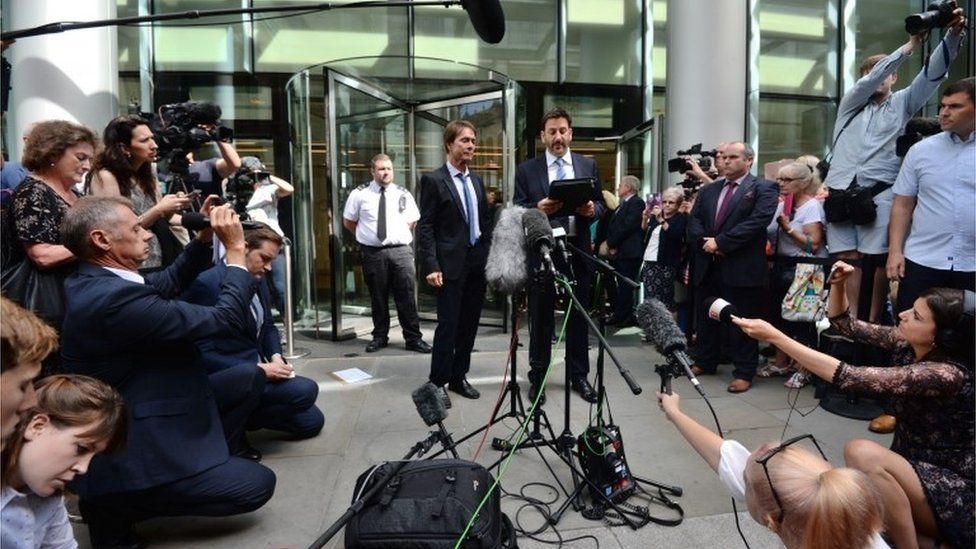 The High Court ruling on Sir Cliff Richard's privacy case against the BBC has prompted reaction from media, police and friends of the singer. Here's what's being discussed.
While the BBC has apologised to Sir Cliff Richard for the distress caused by coverage of the raid on his home, the ruling could have an impact on press freedom, its director of news said.
Fran Unsworth admitted the case had had a "very serious impact" on Sir Cliff, adding there were things that could have been done differently.
But, she noted, the judge stressed that even if no footage of the search had been broadcast, then "the very naming of Sir Cliff would have been unlawful".
"This creates a significant shift against press freedom," said Ms Unsworth.
"This means police investigations and searches of people's homes could go unreported and unscrutinised. It will put decision-making about naming individuals in the hands of the police over the public's right to know.
"We don't believe this is compatible with liberty and press freedoms."
Ms Unsworth said there was "an important principle at stake", which is why the BBC is considering an appeal.
Asked by a reporter outside court if she or Jonathan Munro, the BBC's head of newsgathering, intended to resign, she said it was a "very long" judgement and that the BBC had to "take time to consider what lessons are to be learned".
What reaction has there been from the media?
There has been concern in the media over the ruling and the implications it could have for press freedom.
Ian Murray, its executive director, said: "The ruling to make it unlawful that anyone under investigation can be named is a major step and one that has worrying consequences for press freedom and the public's right to know."
He said making it unlawful to name someone under investigation is "extreme".
"Certainly, such a major change in the law should be debated in Parliament and not come into force following one case involving a high-profile celebrity," said Mr Murray.
"In many situations, the publishing of the name of someone under investigation has led to other witnesses and victims coming forward. We should also consider that the reverse is true. It is vital that the actions of the police should be kept under scrutiny in a free society and this change in the law will make that much harder."
Sunday Times political editor Tim Shipman said the ruling was "an atrocity for a free media" and would "dramatically restrict the freedom to report".
The Cliff Richard ruling is an atrocity for a free media. The police chose to put the issue in the public domain in this way. Will dramatically restrict the freedom to report and in sex cases could prevent other victims coming forward. Absurd

— Tim Shipman (@ShippersUnbound) July 18, 2018
The Sun's political editor Tom Newton Dunn described the ruling as "madness", saying the BBC was "just doing its job".
Cliff Richard judgement is madness imho. V high profile celebrity - who has chased attention for 50 years - being investigated by police is always in the public interest. @BBCNews just doing its job.

— Tom Newton Dunn (@tnewtondunn) July 18, 2018
And the BBC's John Simpson suggested "crooks and scumbags" would take advantage of the implications on naming individuals.
The judgement in Cliff Richard case is troubling for the freedom of the British press. The judge found that though the BBC report was accurate, the BBC had acted unlawfully by merely naming Sir Cliff. How many crooks and scumbags will try to take advantage of this from now on?

— John Simpson (@JohnSimpsonNews) July 18, 2018
But Buzzfeed news editor Alan White noted an appeal would involve spending public money.
so having inadvertently helped create problematic case law the BBC is going to spend public money trying to get rid of it? well done to everyone involved. https://t.co/O3NOb2WXXC

— Alan White (@aljwhite) July 18, 2018
What have Sir Cliff and his supporters said?
Sir Cliff said he was "choked up" and that the judgement was "wonderful news".
His lawyer Gideon Benaim said the impact on Sir Cliff had been "profound".
"He never expected after 60 years in the public eye that his privacy and reputation would be tarnished in this way, and that he would need to fight such a battle," he said.
"Although he felt it necessary to pursue this case - and the sum awarded in damages is one of the highest ever in this area of law - Sir Cliff's motivation was not for personal gain, as he knew all along that he would be substantially out of pocket no matter what.
"His aim has been to try to right a wrong, and, to ensure as best he could, that no other innocent person would have to endure what he went through."
On the matter of press freedom, Jon Oakley of Simkins law firm - which represented Sir Cliff - said: "Where there is a genuine public interest in people being named - for example, where there is imminent risk or danger to the public - the press rightly continues to be free to identify the person being investigated.
"However, after very careful consideration, the judge found that any such public interest does not exist on the facts of this particular case.
"Therefore, rather than heralding any change in the law, we believe what this case represents is confirmation of what has already been the legal position for some time."
Paul Gambaccini, broadcaster and friend of Sir Cliff, said that when the singer found out about the raid he collapsed to the floor weeping, but that another friend had told him to fight the case.
"And he has fought it," said Mr Gambaccini. "And he's fought it for three years, 11 months and four days. And now he's been vindicated."
Gloria Hunniford, speaking on ITV's Loose Women, revealed Sir Cliff had spent £4m of his own money on legal fees.
"I hope his life begins as of now," she said. "Let's get on with what he does best."
Has there been a political reaction?
Speaking at Prime Minister's Questions on Wednesday, Conservative MP Anna Soubry called for a change in the law over naming suspects.
Prime Minister Theresa May said in response that it was a "difficult issue" that needed "careful judgement".
What have the police said?
Chief Constable Stephen Watson of South Yorkshire Police accepted the judge's findings.
He said: "I particularly welcome Mr Justice Mann's findings that all South Yorkshire Police officers and staff were found to have acted entirely honestly and were credible and reliable witnesses.
"At a very early stage of these proceedings, we accepted and apologised to Sir Cliff Richard for the mistakes we made in our attempts to protect the integrity of the police investigation and the rights of the complainant, balanced against Sir Cliff Richard's privacy rights.
"I would like to take this opportunity to again offer our sincere apologies for the distress Sir Cliff Richard has suffered."
Dr Alan Billings, South Yorkshire Police and Crime Commissioner, said: "I welcome the judgement in this case and am sorry for the distress caused to Sir Cliff Richard over this difficult period of time.
"South Yorkshire Police admitted and acknowledged their mistakes, settling damages with Sir Cliff Richard out of court in 2017.
"I have also been assured by South Yorkshire Police, that they have implemented the five recommendations in the 2014 Trotter Review, an independent review into the disclosure of information to the BBC."