Transgender van driver sues for gig economy discrimination
By Clive Coleman
Legal correspondent, BBC News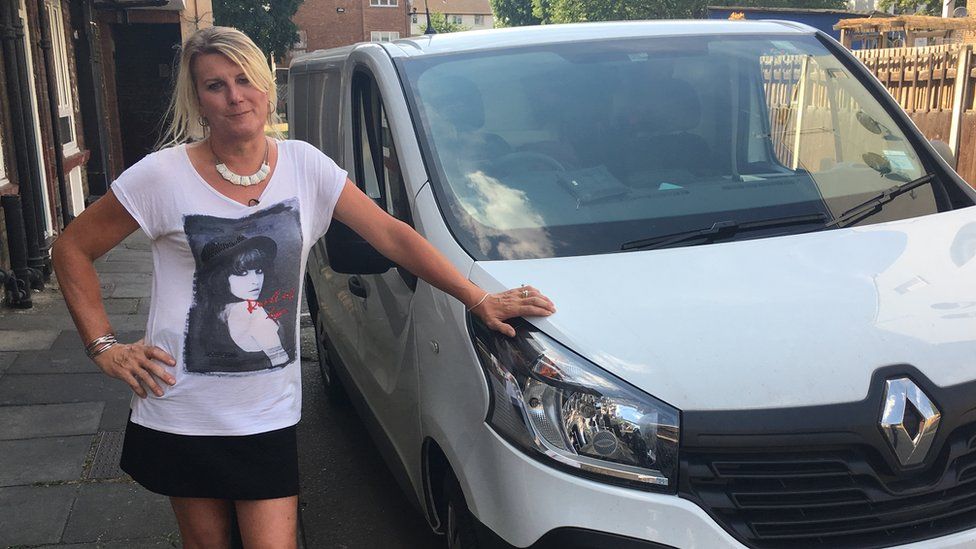 A transgender woman who worked as a van driver in the gig economy is bringing a discrimination claim against courier company Gnewt Cargo.
Hayley, formerly Stanley, from London, claims she was bullied and harassed on the basis of her gender reassignment.
The debate around employment rights in the gig economy usually focuses on monetary benefits like holiday pay.
London-based Gnewt Cargo says it ended its relationship with Hayley after she deliberately damaged a roller door.
The so-called gig economy is characterised by short-term and zero-hours contracts, and freelance work rather than permanent jobs.
Hayley's case is thought to be the first to test LGBT+ rights and discrimination in the gig economy.
This case focuses on dignity at work - a critical issue for those working for both established businesses and new gig economy companies.
In her flat in Bermondsey, south-east London, Hayley - whose full name is Stanley Hayley but she has adopted her surname as her first name - takes me through her preparations for her day's work as a van driver.
She puts on eyeliner, mascara and nail polish, and picks a pair of flat shoes from a sparkling range, which includes diamante wedges and six-inch heels.
It had been a daily routine for 12 years and only stopped in January when she was dismissed by Gnewt Cargo.
Hayley is not the kind of person most people would envisage driving a commercial van.
"Generally people are fine with me," she says.
"They are more interested than anything. You get a few looks. It can start a conversation.
"Sometimes you can even get a few phone numbers," she jokes.
Until January, Hayley worked at Gnewt Cargo where her duties were to load parcels onto her van and deliver them across central London.
The company classed her as an independent contractor running her own business.
She disputes that classification, arguing that she was either a "worker" or "employee" and so was entitled to the rights and benefits they receive.
She also claims she encountered problems while working for the company.
"They would constantly leave things in my bay where I would load up in the morning," she says.
"One time I had 70 boxes I had to physically move by hand out of my bay before I could start work.
"It just used to get me down. It upset me. Sometimes when workers would come in they'd point and laugh and snigger.
"The front wheel of my bike was loosened and I came off it going home.
"You complain about it and they just ignore it. You just start to feel helpless."
Hayley was dismissed when Gnewt Cargo alleged that she had deliberately damaged a roller shutter, which she denies.
She is now bringing a discrimination claim for bullying and harassment, based on her gender reassignment.
To do that she has to establish that she was a "worker" or an "employee", and not an independent contractor running her own courier business.
Rights in the gig economy
Earlier this year, a survey for the government suggested that in the past 12 months 4.4% of the population of Great Britain, amounting to 2.8 million people, had worked in the gig economy.
Companies argue that it gives those working flexibility, but it also means they receive far less in the way of rights and benefits than those classed as "workers" or "employees".
Unions and some of those working in the gig economy argue that people are being bogusly classified as independent contractors by companies that want to save on the payment of benefits and deny rights.
In a string of recent legal cases different groups, including Uber drivers, plumbers and bicycle couriers, have been recognised as "workers" by the courts and tribunals.
So far, the debate on the status of those working in gig jobs has focused on the monetary rights to benefits such as holiday pay, pension and the national minimum wage.
However, the other thing denied to those who are bogusly classified as independent contractors is protection against discrimination.
Without that, employers have free rein to treat women, ethnic and other minorities less fairly.
Hayley's case is being supported by the Independent Workers Union of Great Britain.
Its general secretary, Jason Moyer-Lee, says the reason the union has to bring cases like this "is that the government is not enforcing the law".
He said: "It should be protecting those working in the so-called gig economy by ensuring they are correctly classified and receiving the rights and benefits they deserve."
In a statement Gnewt Cargo told the BBC: "We ended the relationship with Ms Stanley Hayley after an incident, captured on CCTV, in which she purposefully damaged the main roller shutter door of our premises by ramming it with a loaded pallet truck.
"The decision to terminate her contract was purely due to this incident.
"Any other self-employed contractor would have been treated in the same way."
For Hayley, the case is a point of principle.
"If you are being discriminated against in any form, you should be able to bring some sort of justice to bear on these people.
"They can't get away with treating people like they are commodities."
What kinds of employment status exist?
Employees benefit from the highest level of employment protection.
There must be a contract between the employee and employer requiring the employee to carry out duties personally, meaning they cannot send someone else to carry out their work.
The employee must also be under the control of the employer in terms of hours, working practices and workplace rules, and be sufficiently integrated into the workplace.
Rights and benefits include holiday pay, national minimum wage, rest breaks, discrimination protection, whistleblowing, deduction from wages, pension contribution from an employer under auto-enrolment, a written contract of employment, unfair dismissal protection, redundancy payment, statutory minimum notice pay, maternity/paternity pay, paid time off for antenatal appointments and a right to request flexible working.
Workers hold an intermediate position between employees and independent contractors.
A sub-set of the self-employed, they do their own taxes and tend to work flexibly.
However, they are contracted to work personally and they carry out their work as part of someone else's business, rather than their own.
For this reason they are entitled to most, but not all, of the employment rights that employees have.
Rights and benefits include holiday pay, national minimum wage, rest breaks, discrimination protection, whistleblowing, deduction from wages and pension contribution from employer under auto-enrolment.
Independent contractors have the least legal protection.
There will be a contract but there is no requirement that the independent contractor carries out the service personally.
Independent contractors are sole traders, freelancers or professionals - in business on their own account and contracting with clients or customers.
They have no boss or employer and for this reason have no employment rights.