World Cup 2018: The mad dash to Moscow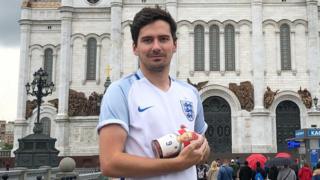 You may have heard a rumour that football is coming home, but many England fans are desperately leaving home to get to Russia in time for Wednesday's semi-final against Croatia.
Thomas Evans was at a wedding when England reached half time of their quarter-final match against Sweden on Saturday, having secured a lead of 1-0.
That was enough for the Derby County fan - who had watched the first goal on his phone during the ceremony - to book direct flights to Moscow.
"As they were throwing the confetti, I was booking flights. I had the faith," the 27-year-old from London said.
It will be Thomas's third trip to Russia this tournament, having already been at England's matches against Tunisia and Colombia. He admits there will now be four years of no holidays "and then Qatar" - the next destination of the next World Cup.
"I can't remember '96. This is the first tournament I've seen England do well in," he added. "I think we can get to the final."
Charlotte Roxburgh, 28 from Manchester, is heading to Russia on her own having booked her flights to Moscow more than a week ago, before the quarter finals had even kicked off.
"I did it in hope. I've been quite lucky," the lifelong Manchester United fan said.
Having been at the Euros in 2016 - where English and Russian fans were involved in violent clashes - Charlotte admitted being put off initially but having "heard good things" about the tournament she's now excited to be travelling to Moscow.
"It's a once in life time opportunity," said the PE teacher who's spent the last two years working in Dubai.
"My return is on Friday, but if they were to make it, I would possibly stay out... I would be mad not to."
For others, the decision has been more opportunistic.
"It was the most stressful five hours of my life," Connor Wakefield said of his last-minute decision to buy flights to Moscow on Sunday night.
After hours online, the 22-year-old and his friend Chris Phillips eventually managed to book journeys to Russia, albeit via Frankfurt and a six-hour stop over in Lithuania.
"Every second flights were just disappearing before our eyes," said the salesman from Oxford.
The pair have spent more than £1,000 each on tickets and flights so far.
"Work has been very good - most of my yearly holiday - and budget - has been used up in two weeks," Connor said.
"It's incredible to think we managed to book it and that England are actually there."
At 0100 BST on Monday, Joseph Cox and his friend booked flights to Russia. Just nine hours later, his mammoth journey from Sheffield to Moscow began.
"There's a big combination of excitement and nerves, both for the games and for the trip - I've never quite done something so spontaneous," the 20-year-old from Anston, Sheffield said.
The pair will fly from Manchester to Turkey's Dalaman airport, then to Istanbul and finally to Moscow.
It should take about 30 hours and cost them £172 each, Joseph said.
But there's a slight catch - they don't have any ticket to games or accommodation booked.
"We were looking for tickets all day with no joy and decided just to book it. We'll get tickets in the end - no matter what we have to pay," he said.
And the return journey? Not booked.
'Blind faith'
Wednesday's clash will be particularly nervy for Alex Brady who, unable to make the semi-final, has gone a step further and booked flights and tickets for Sunday's final at a total cost of around £1,300.
"I booked the flight in blind faith during half time in the Sweden game," the 27-year-old from North Walsham, Norfolk said.
Alex and his cousin will travel from Luton to Moscow via Budapest.
"I've never been to a World Cup," the Norwich supporter said. "No-one had the expectation that we'd get this far. I've had so many messages from people saying they wish they'd had the nerve to book tickets."
There certainly seems to be no regret among those who did find the nerve...
Meanwhile back at home, many people and organisations are cancelling plans.
Unsurprisingly, football training sessions and matches up and and down the country have been called off, while the Swindon Speedway team have postponed Wednesday's meeting against Leicester and Yorkshire County Cricket Club's fixture against Derbyshire has been rescheduled.
The disruption goes well beyond sporting events, with meetings called-off, one net-working event cancelled "due to a serious outbreak of World Cup fever", and others making high stakes decisions...
In London's Hyde park, the British Summer Time festival's midweek events have been rescheduled to allow for the match to be screened to a crowd of up to 30,000 people from their main stage.
However, Wimbledon has confirmed the men's singles final - scheduled for 14:00 BST on Sunday - will not be moved even if England reach the World Cup final on the same afternoon.