Grenfell Tower: Evacuation would have been a 'catastrophe'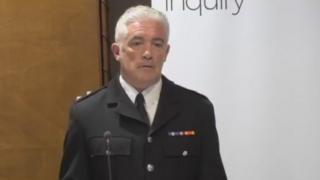 Evacuating Grenfell Tower after fire had taken hold would have been a "huge catastrophe", an inquiry has heard.
Watch manager Brien O'Keeffe said the advice for residents to stay in their homes helped firefighters find them.
He told the public inquiry into the blaze on 14 June 2017 that he "wasn't in favour" of evacuation as there would have been bodies throughout the tower.
The "stay-put" strategy was in place until 02:47 BST - nearly two hours after the fire started.
The only escape route from the tower - a single stairwell - was filled with smoke by 02:00 and it would have been "unsafe and dangerous" to use, Mr O'Keeffe said.
A total of 72 people died as a result of the blaze in west London.
The watch manager - who has been with the London Fire Brigade for 25 years - told the hearing at Holborn Bars that the fire had "outstripped the event and outstripped our ability to rescue everybody".
Between 02:00 and 02:30 he asked his manager if the stay-put policy was still in place.
Mr O'Keeffe said: "I didn't have an opinion, other than if people started to evacuate it would become multiple casualties in the stairs and that we would have great difficulty in finding out where people were.
"But if people start evacuating - when the entire building is on fire or most of it is on fire and the only way down is impossible - that will have been a huge catastrophe."
He added: "It would have really impeded our rescue operations and if my guys didn't know where people were, I couldn't say, 'go to this floor'. You just have - as you did afterwards - people deceased in the stairwell and various parts of the building."
Mr O'Keeffe told the inquiry he "wasn't in favour" of the advice being ditched, but he just "needed to know what was going on" to do his job.
Residents were collapsing in the stairwell during rescues and had to be carried the rest of the way down, he said.