Call for drug-safety testing at all festivals and clubs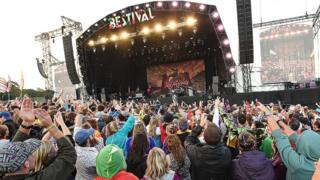 A Labour MP has called on all festivals and nightclubs to provide drug-testing facilities, or face losing their licences to operate, in order to prevent drug-related deaths.
Speaking in the Commons, Thangam Debbonaire said a law change was not necessary, but "drug testing deserves government clarity and support".
She cites non-profit The Loop, which tests drugs for potency and content.
The government said its message was "no illegal drug taking is safe".
Giving examples such as Boomtown festival and Kendal Calling, home office minister Nick Hurd said this sort of testing - in co-operation with local police forces - was "possible" but was a "local operating decision".
'Preaching abstinence not working'
He said the government did "not want to be doing anything that can be seen as endorsing the possession or consumption of illegal drugs" - adding that The Loop is also clear that this "is not what they are about".
But Ms Debbonaire explained: "Either the drug is not tested or if it is, they may consume it but with more information, or they may consume a smaller dose, or they may not consume it at all.
"Message of 'just say no' is clearly not working. Preaching abstinence is not working," she said in the adjournment debate on Friday.
She urged the government to "not stand on the sidelines".
"Drugs cost lives, legal or otherwise, and information saves lives," she said.
"Providing information about illegal drugs can be done within our current laws. The Bristol experience has shown that."
The Bristol West MP was referring to this year's Love Saves the Day festival where, with drug-safety testing in place, there were no drug-related deaths.
On the same weekend, two people died and 15 more received treatment at Portsmouth's Mutiny Festival, where no front-of-house drug-testing was offered.
Festival organisers had warned of a "dangerous high-strength or bad-batch substance on site".
Deaths in England and Wales linked to ecstasy pills also reached their highest level in 2016 at 63 - up from 10 in 2010.
Drug use is not increasing, but drug deaths are because of toxicity, Manchester MP Jeff Smith said during the debate.
Ms Debbonaire asked government to consider "that all licences for such festivals - and if possible all clubs - are only made on condition that there is drug-safety testing available".
Licence holders should work with police, public health, and drug treatment safety organisations to fund this, she added.
Mr Hurd said: "We can all agree on at least one thing - 11 deaths at festivals in the last two years, is 11 too many. We want young people to enjoy these events, but come home to their loved ones."
He said he would speak to police to explore whether they feel guidance on drug-safety testing can be clarified further.